by Matz ~ May 17th, 2013. Filed under:
Matz on Sports
.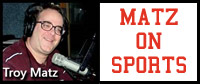 The post-season begins on Friday May 24 for a few area high school baseball teams as the WIAA Tournament pairings have been announced for Divisions 2, 3 and 4. In D-2, Wisconsin Dells gets the top seed in their six-team Regional bracket so they get a bye on May 24th and will host four seed Wautoma or five seed Adams on May 28th. Westfield is the two seed there and they get a bye as well and will host three seed Ripon or six seed Berlin on the 28th. River Valley and Mount Horeb are seeded one and two in a seperate D-2 Regional and they both get byes on the 24th as well with River Valley to host Richland Center or Dodgeville on May 28th with Mount Horeb to host Prairie Du Chien or Platteville that day.
In D-4, Hillsboro is a five seed in their six-team Regional and will play at four seed Royall in the first round on May 24th with Wonewoc-Center, a six seed in that same Regional, playing at three seed New Lisbon in the first round with Cashton and Brookwood the top seeds in that bracket. Weston is a four seed in their D-4 Regional and they get a home game in Cazenovia on May 23rd against La Farge with a trip to De Soto awaiting the winner on May 28th.
Seeding meetings for Division One are taking place this weekend with Baraboo, Reedsburg, Sauk-Prairie and Portage all in the same 12-team Sectional bracket that features six Badger North schools, five from the Mississippi Valley Conference and Middleton from the Big Eight Conference.