by Matz ~ May 17th, 2013. Filed under:
Matz on Sports
.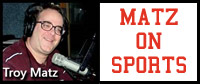 WIAA Regional Softball: D-2 Portage 6 Reedsburg 0, Winning pitcher Allison Hill and Jenalee Wilson combined on a four-hit shutout for 13-3 Portage with Anna James allowing nine hits in the loss for the 2-16 Beavers. Hill and Jessica Parrot each had two hits for Portage who as the two seed will host three seed Columbus Tuesday as Columbus won 8-0 over Edgewood on Thursday. Hill pitched four innings and Wilson three for a Portage squad that also played strong defense with just one error.
Sauk-Prairie 9 Wisconsin Dells 8-Sauk improves to 6-10 for the season with a nine-hit attack offensively and the  pitching of Courtney Mefford who walked only two but gave up ten hits. Bre Frederick took the loss for Dells with three walks issued and five strike-outs as Dells ends up 9-12 overall. Alex Zapuchlak, Carly Pfeifer and Ciara Dollar had two hits each for the Lady Chiefs while Anna Lenerz, Jorgen Fox and Janelle Lord had two hits each for Sauk who took control with a four-run fifth inning.  Sauk led 7-0 at that point before Dells stormed back and had the potential tying run thrown out at home plate by Jorgen Fox to end the game. Fourth seeded Sauk-Prairie now meets top seed Marshall Tuesday as they rolled 20-0 over Lodi to go 18-0 for the season. In a seperate Regional, Richland Center upset Dodgeville 8-6 and will advance to play at River Valley Tuesday with River Valley getting a bye Tuesday while top seed Monroe will host Platteville who won 13-2 over Mount Horeb yesterday.
D-4 Hillsboro 3 Wonewoc-Center 0 as the Tigers move on to play at state ranked New Lisbon Tuesday and the Rockets were Scenic Bluffs champions. Morgan Hyatt pitched a two-hitter with eight strike-outs for Brookwood as they beat Royall 2-0 and will host Cashton on Tuesday. Weston saw their season end in a seperate Regional with a 4-1 loss at De Soto, Weston's third loss to them this year.
Boys Golf: Wautoma wins the the team title in the 18-hole SCC boys golf Meet at Thal Acres near Westfield with Westfield still wrapping up the overall title with Wisconsin Dells second overall. Wautoma, Westfield, Dells, Mauston, Nekoosa and Adams was the order of finish yesterday with the final overall standings showing Westfield 1st, Wisconsin Dells 2nd, Wautoma 3rd, Nekoosa 4th, Mauston 5th and Adams last. Brandon Wolff of Westfield was the medalist yesterday at 78 but Sean Kendall of Wisconsin Dells was next at 79. Brandon Wolff of Westfield, Sean Kendall of Wisconsin Dells, Taylor Hansen of Mauston, Clint De Rosier of Westfield and Matt Kleinhans of Nekoosa comprise this year's all-SCC first team unit as well.
Baseball: SWC-River Valley 10-0 over Platteville behing the shutout pitching of Brandon Noble
SCC-Nekoosa 3-1 over Adams-Friendship