by Matz ~ May 17th, 2013. Filed under:
Matz on Sports
.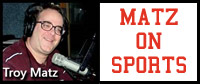 Baseball: Badger North-Baraboo at Waunakee 7 PM, Baraboo will be looking to end an eight-game losing streak as they enter play at 2-8 in the league and 2-10 overall. Baraboo lost three home games in three days earlier this week, all in Badger North, and the T-Birds scored only two runs total in those games as they look to find some more offense in their final games. Waunakee on the other hand leads the conference at 8-1, one game up in the loss column on Mount Horeb and Portage and the Warriors have won eight straight Badger North games and they won 14-3 over Baraboo earlier. Under the lights tonight for Baraboo at Waunakee at 7 PM, weather permitting. Baraboo's game with Madison Edgewood scheduled for last night was cancelled.
Portage at Reedsburg 5 PM, Portage is 6-3 in league play after two recent losses to Mount Horeb and must win out to have a shot at the league title. Reedsburg is 4-4 in the conference with wins over Baraboo and De Forest this week, getting much needed starting pitching in both wins from Seth Douglas and Wyatt Ernstmeyer. Portage won big 10-2 in the first meeting.
Sauk-Prairie at Mount Horeb 5 PM-Sauk lost twice to Waunakee on Tuesday and that knocked the Eagles out of title contention in Badger North at 5-5 in the conference while Mount Horeb is squarely in the championship picture at 8-2 and both teams have just one league game next week to close out the conference season. Sauk lost a wild one 14-8 in 11 innings against Mount Horeb in their first meeting.
SCC-Westfield at Wisconsin Dells, First place Wisconsin Dells can wrap up the league title outright with a win as they stand 7-1 in the conference with Westfield at 6-2 with just one game left for each team after this one. Dells lost to Westfield 2-1 in the first meeting but the Chiefs have given up only 14 runs in their eight conference games. Dells has Adams on the schedule next week to close out the league schedule.
Neko0sa at Mauston
Adams-Friendship at Wautoma
SWC-River Valley at Lancaster
Girls Soccer: Baraboo at Stoughton 5 PM-Baraboo looks for their fourth win of the season with previous victories coming against Mauston, La Crosse Central and Holmen but Baraboo was winless in the Badger North season. Baraboo has just 14 goals scored in 11 matches this season.
Reedsburg at Monroe 5 PM-Reedsburg brings a 7-2-1 overall record into this match after Tuesday's solid performance in a 3-1 win at Sauk-Prairie behind two goals from Liv Douglas. The Beavers also are 2-2 in Badger North with De Forest still on the conference schedule next week along with two non-c0nference matches.
Sauk-Prairie at Fort Atkinson has been cancelled for tonight. The Eagles are 7-7 overall on the season
Boys Tennis: Badger Conference Tournament begins at 9 AM and continues tomorrow at the Nielsen Tennis Stadium at UW-Madison. Points earned this weekend based on the order of finish combined with points earned in the dual meet season determine the overall Badger North and Badger South champions and overall standings with players from both sides of the conference compting together this weekend. Baraboo was 2-2 in Badger North and 3-6 in duals and the revised lineup for Coach Karl Kruse features Zoryg Kusyk, Ian Krszjaniek, Drew Paulson and Eli Andrew in singles with TJ Laux and Andrew Hendricks at one doubles, Joe Bruni with Brett Mc Cutchin at two doubles and Tanner Craker with Jacob Austin at three doubles. Sauk-Prairie was second behind Waunakee in the Badger North dual season with a new lineup for Coach Casey Haselwander featuring Sterling Walsh, Logan Chrisler, Angus Mossman and Jarred Frosch in singles with the doubles combos of Cody Mack with Tyler Ballweg, Bryan Wilcox with Brendan Sullivan and Nathan Lovell with Ben Kraus. Reedsburg was 1-3 in Badger North this year but 5-6 in duals overall and their lineup has doubles combos of Nick Jepson with Colton Hahn, Adam Colvin with Zack Clisch at number two and Mark Nowak with Aaron Svetly at number three with singles players including Derek Webber, Kevin Hinz, Ryan Sherwood and Jason Becker. Play begins at 9 AM today and resumes tomorrow at the Nielsen Tennis Stadium.