by Matz ~ May 16th, 2013. Filed under:
Matz on Sports
.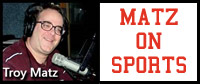 Softball: WIAA D-2 Regionals-Reedsburg at Portage 5 PM, Reedsburg brings a little momentum into this game after edging Sauk-Prairie 5-4 Monday for their first and only win of the Badger North season and their second win overall at 2-15 overall. Coach John Brandt's squad has been decimated by injuries and the projected lineup to start the season has not been in place for any game this season. Carley Bill has been a steady hitter for the Beavers and pitcher Anna James looks to come up big today as well. Portage won the Badger North outright title this year with a 10-2 league mark and the Warriors are 12-3 overall. Portage has a strong offensive team with plenty of HR power from Amanda Elsing and Jenalee Wilson has been very effective as Portage's top pitcher. Portage won 10-4 and 7-1 vs Reedsburg in the regular season and this matchup has seven seed Reedsburg at two seed Portage in the eight-team Regional with the winner moving on to play Tuesday against three seed Columbus or six seed Edgewood.
Sauk-Prairie at Wisconsin Dells at 4:45 PM-Four seed Dells host the five seed Sauk girls at Kamiski Park as part of an eight-team Regional. Dells is 9-11 overall with four losses in a row but the Lady Chiefs did finish 6-4 in the SCC for a third place finish. Wisconsin Dells has scored ten or more runs in nine games this spring but defensive miscues and bases on balls from the pitching staff have been issues for much of the season. The Sauk-Prairie girls are 5-10 overall but the Eagles are just 1-4 in the month of May. This winner will likely face top seed Marshall, the Capitol South champions, on Tuesday in the next round.
SWC champion River Valley is a two seed in their six-team D-2 Regional and they get a bye today before hosting Dodgeville or Richland Center on Tuesday. Badger South champion Monroe is the top seed in this Regional
WIAA D-4 Regionals-Hillsboro is a five seed and they play at four seed Wonewoc-Center at 4:30 PM in a matchup of Scenic Bluffs teams. Hillsboro has a slightly better conference and overall record but Wonewoc-Centrer won head-to-head vs Hillsboro. The winner goes to Scenic Bluffs champion and State ranked New Lisbon on Tuesday. Royall is a seven seed and will play at two seed Brookwood today at 5 PM in another matchup of Scenic Bluffs conference rivals with the winner to play three seed Cashton or six seed Bangor Tuesday. Weston is in a seperate Regional and as the seven seed will play at two seed De Soto in a matchup of Ridge and Valley conference foes with the winner likely to play Seneca Tuesday.
Baraboo is a seven seed in their 15-team grouping in Division one and will host ten seed Tomah Tuesday at Pierce Park at 5 PM with the winner likely to play against Madison La Follette next Thursday.
Baseball: Baraboo vs Madison Edgewood at Warner Park  for tonight has been cancelled and will not be made up this season
SWC-Platteville at River Valley
Boys Golf: SCC 18-hole conference meet at Thal Acres near Westfield-Westfield will end a run of seven straight conference titles for Wisconsin Dells after having won five of the six nine-hole meets and they have a large lead in the points standings with Dells second and that's where they'll likely end up with Wautoma and Nekoosa in a tight battle for third place. Sean Kendall of Wisconsin Dells and Taylor Hansen of Mauston look to lock up all-conference berths today as well.