by Matz ~ May 16th, 2013. Filed under:
Matz on Sports
.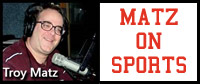 Many of the state's top Senior high school girls softball players play in the Wisconsin Fast Pitch Softball Coaches Association All-Star Classic each June and Baraboo Thunderbird standout Jess Carignan has been selected to play for the Red team in D-1 at Kaminski Park in Wisconsin Dells on June 11th. Carignan is 12-4 in her fourth season as the squad's ace pitcher with an ERA of 1.50 with 107 strike-outs and just six walks in 103 innings and is also batting .483 with five home runs and 27 rbi's. Allie Taylor of Waunakee will play for the Blue team in D-1 while Amanda Elsing and Kaitlin Schultz of Portage will be on the Gray roster in D-2. The games have been played at Bukolt Park in Stevens Point in recent years but the site shifts to Kaminski Park this year and the all-star players and coaches will have a practice session and banquet the day prior to the games themselves.
Baraboo is the seven seed in the 15-team D-1 softball Sectional bracket and will host ten seed Tomah Tuesday May 21st at Pierce Park at 5 PM. Madison La Follette is the two seed and will face 15 seed Madison West to open and that winner meets the Baraboo-Tomah winner on Thursday the 23rd and if Baraboo advances to that day, there is a chance the Baraboo could also host that day as Madison La Follette's home diamond does not meet WIAA Tournament regulations and Baraboo's does. The other May 21st pairings have three seed Verona hosting 14 seed Monona Grove, four seed La Crosse Central hosting 13 seed Madison East, five seed De Forest hosting 12 seed Middleton, six seed Holmen hosting 11 seed Madison Memorial and eight seed La Crosse Logan hosting nine seed Waunakee with top seed Sun Prairie getting a bye from action on May 21st.