by Matz ~ May 13th, 2013. Filed under:
Matz on Sports
.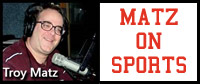 Baseball: Badger North-Reedsburg at Baraboo 4:30 PM, This is the completion of a suspended game from May 2nd with Reedsburg up 1-0 in the second inning at the time play was halted and that's where they'll pick up today at Mary Roundtree. Reedsburg is 2-4 in the conference after losing the lead and the game late 12-11 in nine innings Friday at Nishan Park  vs Sauk-Prairie with Reedsburg now 5-5 overall and trying to snap a three-game overall losing streak. Baraboo is 2-5 in league play and 2-7 overall after a Friday loss 10-0 to Madison Edgewood with Edgewood scoring six seventh inning runs to break it open. Baraboo has scored only 14 runs all season outside of a 14-6 trouncing of De Forest and they look to get the bats going against a Reedsburg pitching staff that has struggled, allowing seven runs or more in seven of ten games this season. Reedsburg and Baraboo also meet in a make-up game next Thursday. Troy Matz and Travis Zick bring you today's action at 4:30 PM on 99.7 FM, your home for Baraboo Thunderbird sports!
Waunakee at Portage 5 PM-The top two teams in the league standings meet in Portage after last week's scheduled showdown in Waunakee was postponed to next week. Waunakee leads the conference at 6-1 with five straight Badger North wins and Portage is in second place at 6-2 after a loss to Mount Horeb this past week. Waunakee has gotten outstanding pitching during this hot streak in conference play, giving up less than three runs per game in that period.
Non-Conference-Lodi at Sauk-Prairie 5 PM, Sauk is 7-5 overall with a couple of Badger North wins to their credit over Baraboo and Reedsburg last week, scoring a combined 20 runs in the process. The Eagles have a DH at Waunakee tomorrow and a game at Mount HorebFriday to continue league play after tonight's action.
Ridge and Valley-Weston at De Soto
Softball: Badger North-Sauk-Prairie at Reedsburg 5 PM, It's the final league game for the home standing Beavers who are 0-11 in Badger North after falling just short at Sauk 8-7 on Friday in their closest game of the conference season. Reedsburg is 1-15 overall after losing 12-6 to Edgewood and 13-0 to Tomah on Saturday. Sauk is 4-6 in league play after the Friday Reedsburg win, scoring in the last of the seventh to win it and that victory snapped a five-game conference losing skid for coach Scott Frey's squad who is 5-8 overall. Sauk also has a make-up at De Forest tomorow before WIAA Tournament play begins Thursday at Wisconsin Dells.
Portage at Mount Horeb-Portage enters the week 8-2 in the league and tied with Waunakee for the top spot and a win today puts them in position to play for the league title tomorrow at Waunakee. Portage has losses to Waunakee and Sauk in the conference and they edged 3-7 Mount Horeb in the first meeting.
Waunakee at De Forest 5 PM- This is a make-up from last Thursday's rainout with Waunakee 8-2 in the league and tied for first place with a six-game league winning streak led by the efforts of pitcher Allie Taylor and De Forest is 6-4 in the conference and a dangerous team lead by pitcher Katie Klein. Waunakee won the first meeting. Portage at Waunakee and Sauk at De Forest tomorrow as well.
Non-Conference-Wisconsin Dells at Edgerton-The Dells girls are 9-10 overall after sweeping an SCC DH at Wautoma Friday before losing to Homestead, La Crosse Logan and Cedarburg Saturday at the Baraboo Invite. The Lady Chiefs are 3-6 for the non-c0nference season after going 6-4 in the SCC.
Ridge and Valley-Weston at De Soto
Boys Golf: SCC mini-meet at Castle Rock in Mauston, this is the fifth of six conference mini-meets with Trappers Turn hosting tomorrow. Westfield appears on their way to the conference title with 22 overall points, well ahead of second place Wisconsin Dells as the Chiefs have yet to win a conference event.
Boys Tennis: Portage at Waupun
Friday-Reedsburg edges Assumption 4-3 with wins to Jason Becker and Austin Ruland in singles and Adam Colvin with Zach Clisch and Mark Nowak with Aaron Svetly in doubles.