by Matz ~ May 11th, 2013. Filed under:
Matz on Sports
.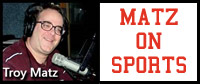 Softball: Baraboo Invite at Pierce Park with games at 10 AM, Noon and 2 PM. Baraboo is 9-5 overall and will play Beloit Memorial in their first game while Wisconsin Dells at 7-7 overall will meet Mequon Homestead in the first round with Westfield, Cedarburg, Milwaukee Pius and La Crosse Logan also in the eight-team field.
Reedsburg hosts what amounts to a Triangular at Nishan Park with Ithaca pulling out of the event recently. Reedsburg plays Madison Edgewood at 9 AM with Edgewood vs Tomah at 10:30 and Reedsburg faces Tomah at about Noon. The Beavers are 1-13 on the season after an 8-7 loss at Sauk-Prairie yesterday.
Sauk-Prairie at the Wisconsin Rapids Invite with Sauk 5-8 overall after the Reedsburg win.
Weston at the Viroqua Tournament
River Valley at the Belmont Invite
Baseball: Portage at the Adams-Friendship Invite, Portage is 7-3 overall and a contender in Badger North
Girls Soccer: Baraboo plays multiple matches at the Schofield DC Everest Invite with a 2-6 record overall but 2-2 in four non-conference matches.
Reedsburg plays Racine Horlick at 10 AM in the first of three matches at the Sheboygan North Tournament with Reedsburg to face Hortonville or Sheboygan North in round two. Reedsburg is 6-2-1 overall and 5-0-1 in non-conference play but will be facing their stiffest non-conference competition of the season today. Reedsburg beat Dodgeville 5-0 on Thursday.
Boys Tennis: Baraboo and Sauk-Prairie compete at the Monroe Doubles Invite at 9 AM. Baraboo ended up 2-2 for the Badger North season after a 6-1 loss to Waunakee yesterday with Sauk-Prairie finishing 3-1 after beating Portage 7-0
Boys Golf: Reedsburg, Portage, New Hohlstein and Wisconsin Dells all take part in the Dells Classic at Coldwater Canyon at 8 AM. Jordan Brown led Reedsburg with an 85 yesterday at the Reedsburg Invite while a run of six consecutive SCC titles for Wisconsin Dells looks to be coming to an end with Westfield way out in front in the league's points race.
Dells Raceway Park-All escorted Mom's get free admission tonight on this Mother's day weekend and big groups can pay a low of price of 35 dollars admission if they arrive before 6 PM tonight. Fan gates open at 4 PM, qualifying at 5 PM with racing at 7 PM for the Late Models, Sportsman, Pure Stocks and Bandits divisions.
Sunday League Northern Section Home Talent Baseball tomorrow features Cross Plains at Reedsburg, Black Earth at Sauk-Prairie, Cazenovia at Montello, Middleton at Plain, Waunakee at Mazomanie with Ashton at Richland Center at 4 PM today.