by Matz ~ May 11th, 2013. Filed under:
Matz on Sports
.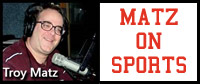 Baseball: Non-Conference-Madison Edgewood 10-0 over Baraboo, Baraboo falls to 2-7 overall with the loss and the T-Birds play five games in five days next week, four of them in league play.
Badger North-Sauk-Prairie 12 Reedsburg 11 in 9 innings, Sauk scores four in the top of the seventh on two bases loaded walks and two bases loaded hit batsmen and then Jared Schaaf's rbi single in the 11th wins it. Jordan Bill had three hits for Reedsburg including a grand slam HR in the sixth that put the Beavers up 11-7 at that time and Payton Sterkowitz also had three hits for the Beavers, now 2-4 in the conference. Sam Peterson takes the loss in relief with Riley Diske the winner in relief for 5-3 Sauk-Prairie with the Eagles being out-hit in the game 12-7.
SCC-Wisconsin Dells 9-1 and 8-3 over Wautoma-Ashton Mace and Colyn Buss each pick up a pitching victory for the Chiefs who are 6-1 in conference. Josh Gray had a four-hit game in the game two win. Adams also beat Nekoosa 7-6 in the SCC
SWC-River Valley 3-0 over Prairie Du Chien on Alex Spurley's one-hit shutout
Scenic Bluffs-Hillsboro wins 2-1 and 5-4 over Necedah  and Royall wins 10-4 and 6-5 over Bangor
Softball: Badger North-Sauk-Prairie 8-7 over Reedsburg with a run in the last of the seventh. Reedsburg had only seven hits and committed four errors as they fall to 0-11 in conference with Anna James taking the loss. Courtney Mefford got the win for 4-6 Sauk-Prairie
De Forest 1-0 over Mount Horeb with Katie Klein tossing a four-hitter with 11 strike-outs for 6-3 De Forest with Mt Horeb 3-7.
Portage at Waunakee postponed to Tuesday
Non-Conference-Baraboo at Edgewood cancelled
River Valley 11-1 over Riverdale
SCC-Adams wins 10-0 and 14-2 over Nekoosa
Scenic Bluffs-Bangor wins 7-2 and 18-5 over Royall
Boys Golf: Holmen and Sauk-Prairie finish 1-2 at the Reedsburg Invite with Portage 7th, Baraboo 9th and Reedsburg 11th. RJ Budd for Sauk was the overal medalist with a 70 and teaamtate Jack Raunder scored 79 while Ben Herwig shot 80 for Portage, Mike Contino 82 and Mark Topham 85 for Baraboo and Jordan Brown fired an 85 to lead Reedsburg.
Track and Field: Area first's at the Heather Johnson Memorial Invite in Wisconsin Dells include Sam Elsner of Portage in the boys discus, Karissa Mace of Wisconsin Dells in the girls pole vaul and Sarah Zastrow in the girls 3200, the girls 800 relay and Jason Whalen in the boys shot put for Reedsburg. Mount Horeb's boys and Mauston's girls won the team titles with Mount Horeb the combined team score champion.
Boys Tennis: Badger North-Waunakee 6-1 over Baraboo with TJ Laux and Andrew Hendricks winning at one doubles for 2-2 Baraboo with Waunakee 4-0 for the conference dual season.
Sauk-Prairie 7-0 over Portage to finish 3-1 for conference duals with Sterling Walsh, Tyler Ballwg, Cod Mack and Logan Chrisler singles winners with doubles victories going to Bryan Wilcox with Brendan Sullivan, Angus Mossman with Ben Kraus and Nathan Lovell and Darrin Frosch while Portage goes 0-4 for the conference dual seas0n.
Girls Soccer: Sauk-Prairie 1-0 over Onalaska on a Nyssa Goeres goal with the Eagles now 5-5-1 overall.