by Matz ~ May 11th, 2013. Filed under:
Matz on Sports
.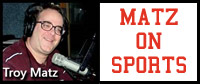 The post-season for high school girls softball in Wisconsin starts Thursday for schools in Divisions 2,3 and 4 and the pairings were announced earlier this week. In D-2, Marshall gets a number one seed in a local regional and will host eight seed Lodi Thursday while Badger North title contender Portage is the two seed and they will host seven seed and conference rival Reedsburg Thursday afternoon at 5 PM. Columbus is the three seed in this grouping and will host six seed Madison Edgewood with Wisconsin Dells a four seed and hosting five seed Sauk-Prairie at 5 PM at Kaminski Park.
River Valley, the SWC leaders, is a two seed is in another D-2 regional and after getting a bye on May 16th, they will host Dodgeville in all likelihood on May 21st. Monroe is the top seed in the regional.
Hillsboro will play at Wonewoc-Center in a five seed vs four seed matchup Thursday in a local D-4 regional with that winner playing at top seed and Scenic Bluffs champion New Lisbon on May 21st. Seven seed Royall plays at two seed Brookwood and three seed Cashton hosts six seed Bangor on Thursday as well in that regional field.
Weston  is in a different D-4 regional and the Silver Eagles are a seven seed and playing at two seed De Soto on May 16th with the winner to play three seed Seneca or six seed La Farge on May 21st. Ithaca is the top seed in that particular regional.
Baraboo is a D-1 entry in WIAA girls softball and seedings will take place for those schools this upcoming week with tourney play opening up on May 21st