by Matz ~ May 10th, 2013. Filed under:
Matz on Sports
.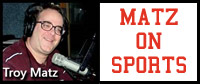 Boys Golf: Wautoma wins the SCC mini-meet at Lake Arrowhead with Westfield second followed in order by Mauston, Nekoosa, Wisconsin Dells and Adams. Taylor Hansen of Mauston was the overall medalist at 40 with Sean Kendall of Wisconsin Dells shooting a 45 and Roarke Horton 48 for Dells. Westfield has 22 team points with Dells at 16.5, Wautoma 15.5, Nekoosa 14.5, Mauston 8 and Adams 7 with two nine-hole conference mini-meets and the 18-hole conferene tourney yet to play.
Lancaster and River Valley finish 1-2 in a SWC boys golf event in Spring Green with Graham Westley shooting 39 for the Blackhawks.
Girls Soccer: Reedsburg 5-0 over Dodgeville with Mari Hauko and Liv Douglas each scoring two goals for the 6-2-1 Beavers who play in a tournament at Sheboygan tomorrow.
SWC-Richland Center 2 River Valley 1
Boys Tennis: Reedsburg at Milton cancelled
Baseball: Reedsburg at Sauk-Prairie postponed
Columbus DH at Wisconsin Dells cancelled
Softball: Sauk-Prairie at Reedsburg postponed to Monday
Waunakee at De Forest postponed
Adams-Friendship 8-0 over Wisconsin Dells in the SCC-Emma Roenneburg throws a two-hit shutout with 11 strike-outs for first place Adams while losing pitcher Bre Frederick allowed only five hits with one walk in five innings but poor defense hurt the Lady Chiefs who are now 4-4 in the SCC with two games at Wautoma today.