by Matz ~ May 10th, 2013. Filed under:
Matz on Sports
.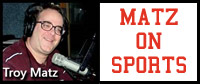 Baseball: Non-Conference-Madison Edgewood at Baraboo 5 PM at Mary Roundtree Evans Field, Baraboo is 2-6 overall and they've played only one non-league game so far and that was an 11-1 loss to Tomah in early April. Baraboo lost an 8-5 decision at Sauk-Prairie on Tuesday and the T-Birds are scheduled for three league games in three days next week-Monday at home with Reedsburg, Tuesday at home with Mount Horeb and Wednesday at home with De Forest as recently announced in a 4 PM game. Edgewood is not among the leaders in Badger South.
Badger North-Sauk-Prairie at Reedsburg 5 PM at Nishan Park, These teams were rained out yesterday in a make-up game at Sauk with no make-up date announced. Sauk is 4-3 in league play after Tuesday's 8-5 win over Baraboo with Reedsburg 2-3 in the league and 5-4 overall after losses to Waunakee and Milton earlier this week, allowing 18 runs in those two losses. Reedsburg's DH with La Crosse Central has been cancelled.
Portage at Waunakee postponed to May 21st- Portage  is 6-2 in the conference after a 7-6 loss to Mount Horeb Tuesday and Waunakee is the leader at 6-1 with two Badger North wins this week. These two teams have not squared off yet with a meeting set for Monday in Portage as well. Waunakee's pitching staff has not allowed more than five runs in a league game this spring.
Mount Horeb at De Forest 5 PM-Mt Horeb is still in the title chase at 4-2 after a 7-6 win over Portage Tuesday with De Forest 0-8 but showing signs of improvement with a close loss to Portage in extra innings and a fairly close loss vs Waunakee this week with much improved pitching of late. Mt Horeb won the first head-to-head meeting.
SCC-Wisconsin Dells hosts Wautoma 5 PM- Dells is 4-1 in the conference with only a loss to Westfield 2-1 and the Chiefs are 5-1 overall with numerous non-league games postponed including yesterday for a second time with Columbus. Dells and Wautoma have yet to meet this season with the Dells Chiefs and Westfield believed to be tied for the conference lead in the loss column.
SWC-Prairie Du Chien at River Valley
Softball: Non-Conference-Baraboo at Madison Edgewood cancelled,  Baraboo is 7-4 in Badger North with one league game left at Mount Horeb Tuesday and Baraboo is 9-5 overall with non-league wins over La Crosse Central and Schofield DC Everest with a non-league loss to unbeaten Sun Prairie. Baraboo also hosts their eight-team Invite tomorrow starting at 10 AM at Pierce Park with Wisconsin Dells, Westfield, Beloit Memorial, Cedarburg, Milwaukee Pius, Mequon Homestead and La Crosse Logan also in the field. Baraboo meets Beloit Memorial tomorrow in round one.
Badger North-Reedsburg at Sauk-Prairie 5 PM, Reedsburg is 0-10 in Badger North and 1-12 overall while Sauk is 3-6 in the conference and 4-8 overall. The first meeting between these teams was rained out yesterday with a Monday make-up in Reedsburg. The Reedsburg Beavers are scoring less than two runs per game in league play. Reedsburg's Invite is also tomorrow at Nishan Park with Edgewood, Ithaca and Tomah joining the Beavers in the four-team affair.
Waunakee at Portage postponed to May 14- Both teams are 8-2 for the conference season and Waunakee won the first meeting 8-4. Allie Taylor has stepped it up of late as Waunakee's ace pitcher, helping the Warriors become the hottest team in the league right now. Waunakee at De Forest was postponed yesterday.
De Forest at Mount Horeb-The Norskies are 5-3 in the conference and must win out to have any shot at a share of the league title. Mount Horeb is 3-6 in the conferene with three straight Badger North losses but they beat De Forest 6-5 earlier this season.
SCC-Wisconsin Dells is slated to play a twin bill at Wautoma today after a postponement with Adams yesterday. Dells is 4-3 for the conference season after a win over Mauston earlier this week. This will be the first meetings this year between these two squads, making this DH today necessary.
Track and Field: Reedsburg, Portage, Mauston and Adams among the schools joining Wisconsin Dells at the annual Heather Johnson Invite at 4 PM today. Jason Whalen of Reedsburg and Matt Bare, Tara Schmudlach and Emily Grunder of Portage all were double winners in Badger North duals on Tuesday while Mauston won the boys and girls team titles recently at the Besty De Merit Invite in Reedsburg and Wisconsin Dells has gotten a boost of late on the boys side with the improving performances of Dan Sweeney and Byron Beyer in recent events.
Baraboo has one final tune-up before the Badger North meet today at the Oregon Invitational.  Baraboo won both boys duals and split two on the girls side Tuesday vs Reedsburg and Waunakee with Erica Pleau and Carlie Zimmerman winning two events each while Mc Kaela Christenson broke her own school record in the 3200 that day.
Boys Golf: Baraboo, Sauk-Prairie, Portage and Wisconsin Dells all part of the field at today's Reedsburg Invite at the Reedsburg Country Club at 8:30 AM. Portage won the Badger North dual title at 5-1 with Sauk-Prairie 4-2, Baraboo 1-4-1 and Reedsburg 0-5-1 with Baraboo also winning the team title at the Northern Bay Invite on Wednesday. Wisconsin Dells trails Westfield in the SCC boys golf chase.
Boys Tennis: Badger North-Baraboo at Waunakee 4:30, Baraboo is 2-1 in the conference dual season with wins over Reedsburg and Portage and a loss to Sauk-Prairie with Waunakee 3-0 with a pair of 7-0 wins. Baraboo is 2-5 overall in duals and will be sporting a new lineup with TJ Laux and Andrew Hendricks teaming up at one doubles with Joe Bruni and Brett Mc Cutchin moving to number two with Tanner Craker and Jacob Austin now at three with Ian Krszjzaniak and Drew Paulson joining Zoryg Kusyk in singles. Baraboo and Sauk-Prairie will play in the Monroe doubles invite tomorrow as well.
Sauk-Prairie at Portage 4:30 PM-Sauk is 2-1 in the conference with wins over Baraboo and Reedsburg and a loss to Waunakee and the Eagles earn second place in the dual season with a win today at 0-3 Portage who has lost 5-2 or worse in all three conference duals.
Non-Conference-Reedsburg at Wisconsin Rapids Assumption in a make-up dual match
Girls Soccer: Onalaska at Sauk-Prairie 7 PM-Sauk-Prairie is hanging around the .500 mark at 4-5-1 overall with Onalaska a middle of the pack team in the MVC. Sauk was scheduled to play at Watertown last night.
Mauston at Poynette-Portage at 6:30 PM at Veterans Field
Lodi at River Valley