by Matz ~ May 9th, 2013. Filed under:
Matz on Sports
.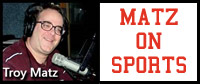 Baseball: Badger North-Reedsburg at Sauk-Prairie postponed, Reedsburg fell to 2-3 in the conference Monday in a 7-5 loss at Waunakee with Reedsburg losing a 5-1 lead with two outs in the sixth inning as the pitching staff continues to struggle. Sauk-Prairie is 4-3 in the conference after rallying to beat Baraboo 8-5 on Tuesday and this would have been the first meeting between the two teams with a postponement in the first scheduled meeting. These teams also play tomorrow at Nishan Park in Reedsburg with the Beavers games at La Crosse Central cancelled for Saturday.
Non-Conference-Columbus at Wisconsin Dells in a DH postponed, Dells is 5-1 overall after winning 5-2 over River Valley Tuesday in their first non-league game of the season. The Chiefs are 4-1 in the SCC and tied for first place with Westfield in the loss column with Dells hosting Wautoma tomorrow.
Ridge and Valley-La Farge at Weston
SWC-River Valley at Richland Center
Wednesday-Mount Horeb 7 Portage 6, Portage suffers just their second conference loss as they strand 12 base runners in the completion of a suspended game from last week. Weston Zander threw two scoreless innings of relief to get the save for 4-2 Mount Horeb with Jordan Walker taking the loss for Portage now 6-2 in the conference and trailing first place Waunakee at 6-1 who beat De Forest yesterday. Portage plays a big one at Waunakee Friday under the lights at 7 PM.
Softball: Badger North-Sauk-Prairie at Reedsburg postponed to May 13, Sauk has fallen to 3-6 in Badger North with two conference losses this week, 9-2 at Baraboo Tuesday and 11-5 vs Portage yesterday with Sauk now having lost five straight league games. Portage banged out 12 hits against Kayla Meyer including HR's for Amanda Elsing and Jessica Parrott as they go to 8-2 for the conference season. Jenalee Wilson got the win with Sauk getting two hits from Courtney Mefford and Avery Bannan. Sauk has yet to play Reedsburg this season with the teams scheduled at Sauk tomorrow. Reedsburg is 0-10 in conference and 1-12 overall.
Waunakee at De Forest postponed-These two were scheduled to meet for the second day in a row with Waunakee winning 3-1 yesterday to stay tied for first with Portage at 8-2 as the Norskies fall two games back at 5-4. Winning pitcher Allie Taylor tossed a two-hiter with 12 strike-outs while Katie Klein allowed only four hits with ten strike-outs in the loss.
SCC-Adams at Wisconsin Dells postponed, Dells is 4-3 for the conferene season after clobbering Mauston 10-1 Tuesday with Claire Picha and Dana Percival each homering. First place Adams suffered what is believed to be their first conference loss earlier in the week against Mauston. Adams beat Dells 13-3 in the first meeting. The Lady Chiefs also play two at Wautoma tomorrow.
Ridge and Valley-La Farge at Weston
SWC-River Valley at Platteville
Girls Soccer: Non-Conference-Sauk-Prairie at Watertown, Sauk is 3-5-1 overall after a 4-0 loss to Waunakee on Tuesday and the Eagles have just one non-league win, 2-0 over Platteville. This is a make-up from an April postponement with Sauk also hosting Onalaska tomorrow.
Reedsburg at Dodgeville-Reedsburg is 5-2-1 overall with both losses in Badger North including a 2-0 setback to Mount Horeb on Tuesday but the Beavers are 4-0-1 in five non-c0nference matches. Reedsburg also plays Saturday at Sheboygan.
SWC-Richland Center at River Valley
Wednesday-Waunakee wins 10-0 over Baraboo in a make-up Badger North match with five goals in each half and with a 24-4 edge in shots on net. Waunakee is 3-0 in Badger North with Baraboo 0-4 in conference and 2-6 overall. Baraboo plays multiple matches at Schofield DC Everest Saturday.
Tuesday-Lake Mills 10 Poynette-Portage o in the Capitol Conference
Track and Field: River Valley at the Poynette Invite
Boys Golf: SWC mini-meet at River Valley's home course at House On The Rock
Wednesday-Baraboo wins the team title in the seven-team affair at Northern Bay in a make-up from an earlier postponement. Mark Topham led Baraboo in scoring as Baraboo wins despite going with an adjusted line-up.
Sauk-Prairie 3rd, Portage 5th, River Valley 6th and Reedsburg 12th at the Portage Invite at the Portage Country Club. RJ Budd shoots a 78, Jack Rauner 82 and Darrin Pulsfus 84 for Sauk with Nick Hepler and Drew Ringlestetter at 80 and 81 respectively for Portage. River Valley gets 84′s from Graham Westley and Alex Wedige and Max Sprecher at 98 led Reedsburg. Edgerton won the team title.
Boys Tennis-Reedsburg is 4-5 overall in dual match play and had a dual cancelled today at Milton. The Beavers finished 1-3 for the conference season.