by Matz ~ May 8th, 2013. Filed under:
Matz on Sports
.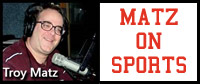 Softball: Badger North-Baraboo 9-2 over Sauk-Prairie, Jess Carignan pitched a four-hitter with no walks and three strike-outs for Baraboo and also was 3×4 at the plate with two rbi's including a solo HR in the first inning, her fifth long ball of the season. Baraboo broke the game open with a five-run second inning highlighted by Shelby Gerken's two-run double to left-center. Baraboo out-hits Sauk-Prairie 9-4 with Gerken and Jess Carignan combining for five of those hits. Baraboo is now 7-4 in the conference and 9-5 overall with Sauk slipping to 3-5 in the league and 4-7 overall with their second loss to Baraboo.  Sauk hosts first place Portage in a make-up game today at 4:15 PM
Portage 4 De Forest 2-Portage hangs onto first place with their second win over the Norskies with Amanda Elsing kocking in three of the four runs for 7-2 Portage including a key two-run single in the bottom of the sixth. Winning pitcher Jenalee Wilson throws an eight-hitter with seven strike-outs for Portage with Katie Klein taking the loss for 5-3 De Forest. De Forest plays Waunakee each of the next two days.
Waunakee 2 Mount Horeb 0-Allie Taylor throws a no-hitter with one walk and five strike-outs to lead Waunakee to victory. An updated look at the standings shows Waunakee and Portage sharing first place at 7-2 and those two square off Friday, likely for the league title. Mount Horeb falls to 3-6 with their second loss to Waunakee.
Non-Conference-Milton 10-1 over Reedsburg as the Beavers fall to 1-12 overall with two losses to Milton. Reedsburg had just three hits with Anna James taking the loss with Reedsburg now looking to back-to-back games Thursday and Friday with Sauk-Prairie.
SWC-River Valley 21 Lancaster 0-River Vallery out-hits the Flying Arrows 16-1 with Vanessa Clarson and Kylie Hoffman each homering as well on offense.
SCC-Mauston 4-3 over Adams-Friendship
Baseball: Badger North-Sauk-Prairie 8 Baraboo 5-It was a 4-4 game through five innings but Sauk scored six times in the bottom of the sixth to take control with Bailey Breunig's three-run double the crucial hit. Clay Hinz started on the mound and took the loss for Baraboo, working into the sixth inning before Tyler Brown finished up. Paul Zech gets the win in relief of Riley Diske and struck out five in two innings. Sauk wins in the hits department 13-8 with Bailey Breunig 3×4 and Paul Zech 2×4 for Sauk while Alex Weinke had three for Baraboo. Baraboo is 2-5 in the conference with Edgewood coming to town Friday. Sauk improves to 4-3 in league play and will face Reedsburg Thursday and Friday in BadgerNorth.
Portage 7 De Forest 5 in 8 innings-Anthony Korish drove in a run on a grounder in the top of the 8th to help Portage to victory with the Warriors now 6-1 in league play with De Forest 0-7. Portage hosts Mount Horeb in a league make-up today.
Waunakee 9 Mount Horeb 0-Waunakee improves to 5-1 in conference with their second league win of the week as Mount Horeb slips to 3-2 in Badger North
Non-Conference-Milton 11 Reedsburg 8-Four Reedsburg pitchers combine to give up 11 runs on 13 hits and the defense was guilty of four errors as well. Seth Douglas homered and had two other hits for the 5-4 Reedsburg Beavers who are now 0-2 for the week.
Wisconsin Dells 5 River Valley 2-Dells wins in their first non-league game of the season with Ashton Macer pitching five strong innings to get the win. Alex Cimaroli and Nick Percival had two hits each in a ten-hit attack for the 5-1 Dells Chiefs who will try to play two vs Columbus tomorrow and they take on Wautoma Friday.
Track and Field: Baraboo boys defeat Waunakee 77-69 and Reedsburg 85.50-60.50 with Waunakee also defeating Reedsburg 88-57 at Reedsburg, Baraboo got titles from Connor  Drexler, Marek Sokolowski, Brandon Bowers and all four relay teams while Reedsburg titles went to Nick Hasler, Jake Nemitz and Jason Whalen in two events. The Waunakee girls win 93-51 over Reedsburg and 83-63 over Baraboo with Baraboo defeating Reedsburg 87-59. Baraboo winners included Alex Schwarz, Mc Kaela Christenson, Erica Pleau, Emily Brinker and two from Carlie Zimmerman while Reedsburg first's went to Abby Clement, Tommie Brenner in two events along with the 800 relay and 3200 relay. Baraboo finishes 5-0-1 for the conference dual season and with a 4-2 conference mark for the girls.
Sauk-Prairie defeats Portage 94-55 on the boys side and 91-54 on the girls side at Portage with Kyle Mc Conville winning three events for the Sauk boys with Matt Bare a double winner for the Portage boys and Lianna Mack, Libby Molitor and Karla Bonham for the Sauk girls and Emily Grunder and Tara Schmudlach won two events each for Portage.
Mount Horeb boys defeat De Forest but De Forest wins the girls dual in Badger North action
Boys Golf: Badger North-Portage 167 Baraboo 182, Dawson Hinz leads Baraboo with a 43 with Mark Topham and Mike Contino at 47 but Portage wins the dual with Alec Gaffney and Drew Ringlestetter each firing a 41 as Portage wins the conference dual meet title at 5-1 with Baraboo ending up 1-4-1 for the conference dual season. The re-scheduled Portage Invite is today.
De Forest at 160 beats out Waunakee at 161 and Reedsburg at 176 in conference play at Lake Windsor, leaving De Forest 4-2 for the conference dual season, Waunakee at 3-3 and Reedsburg at 0-5-1. Tanner Keel and Jeremy Grundahl each scored 42 for the Reedsburg Beavers.
SCC mini-meet at Westfield-Westfield wins the team title at 166 with Wisconsin Dells next with a conference best 182. Sean Kendall led Dells with a 41 and Logan Marsich shot 45. Westfield has the points lead at 17 with Dells next at 13.5 with three league mini-meets and the 18-hole Conference meet yet to go
River Valley 2nd behind Lancaster in the SWC mini-meet at Platteville
Boys Tennis: Baraboo 5-2 over Portage with Baraboo improving to 2-1 in conference with Portage 0-3. Baraboo winners were Zoryg Kusyk and Nic Lemke at three and four singles and all three doubles teams of Joe Bruni with Brett Mc Cutchin, Drew Paulsen and Ian Krszjzaniek and Tanner Craker with Jacob Austin. Matt Peterson and Jack Narel win for Portage at one and two singles.
Waunakee 7-0 over Reedsburg with Waunakee 2-0 in the conference with Reedsburg 1-3.
Girls Soccer: Badger North-De Forest 7 Baraboo 1, De Forest scores four goals in the first half and three in the second to go 2-1 for the conference season as Baraboo slips to 0-3 in the league and 2-5 overall. Clarice Uphoff scored for the Thunderbirds in the second half on an assist from Irelan Bennett. Baraboo has another conference match tonight at Waunakee
Waunakee 4 Sauk-Prairie 0-Sauk was held to one shot on net, falling to 2-1 in conference, while 2-0 Waunakee had 23 shots on goal.
Mount Horeb 2 Reedsburg 0- Mount Horeb improves to 1-1 for the conferene season with Reedsburg now 1-2, outshot 12-2 in the contest.