by Matz ~ May 7th, 2013. Filed under:
Matz on Sports
.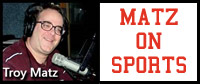 Softball: Badger North-Sauk-Prairie at Baraboo 5 PM at Pierce Park, Baraboo is 6-4 in league play after a Thursday win at Reedsburg 13-6 with the Thunderbirds 8-5 overall for the season. Baraboo scored a total of four runs in the four league games they've lost but the Thunderbird girls have also scored nine runs or more in five of their six conference wins so it's been a feast or famine situation with the bats. Jess Carignan has been a constant though, leading Baraboo in nearly every offensive category while sporting a 1.75 ERA on the mound with 81 strike-outs vs 4 walks. Sauk-Prairie comes in at 3-4 in the conference and 4-6 overall for first year head coach Scott Frey and the Eagles have lost three straight league games. Sauk played Baraboo tight in their first meeting with Baraboo winning 4-2 and this is a matchup featuring Baraboo coach Misty Muter going up against her former team after coaching the Eagles varsity the past three years before this season. 5 PM at Pierce Park and it's Parents Night and Senior Night for the Thunderbirds and you can hear the game live on 99.7 FM with Troy Matz on the call as Baraboo plays their final conference home game.
De Forest at Portage 5 PM-Both teams are in prime contention for the league title with De Forest 5-2 and Portage 6-2 in conference play and both have teams have gotten strong pitching-Jenalee Wilson and Allison Hill for Portage and Katie Klein for De Forest. Portage won 5-2 in the first head-t0-head meeting and the winner today will be in the drivers seat in the conference race but there are still a lot of games to play over the next week plus before the WIAA Tournament series begins.
Mount Horeb at Waunakee 5 PM
Reedsburg at Milton-The Beavers meet this non-conference foe for the second time this season with Milton blanking the 1-11 Beavers 7-0 on two hits in the first meeting. Reedsburg is coming off a loss to De Forest yesterday 5-0 and they still have four games left this week after today.
Baseball: Badger North-Baraboo at Sauk-Prairie 5 PM, Baraboo brings a 2-4 league record to Sauk today but the Thunderbirds knocked off the Eagles 4-3 in a well pitched game by Clay Hinz  in the first meeting. Sauk is 3-3 in league play and are averaging over eight runs per game in the conference season although the pitching staff has been unstable. Five league games still remain for both squads after today.
Portage at De Forest 5 PM-Portage leads the conference at 5-1 and one of those wins was 12-6 over De Forest who is 0-6 in Badger North baseball and has given up 12 runs or more in each league game.
Mount Horeb at Waunakee 5 PM-Mount Horeb is 3-1 while Waunakee is tied with Portage in the loss column with Monday's win over Reedsburg. Mount Horeb won the first meeting 7-4.
Non-Conference-Milton at Reedsburg 5 PM-The Beavers are 6-2 overalll and 3-2 in Badger North after Monday's win at Waunakee and Reedsburg bested Milton 11-8 in a six-inning game in their first meeting.
River Valley at Wisconsin Dells-This would be the first non-league game of the spring for the Chiefs due to several bad weather postponements. Both teams are in the hunt for their respective conference titles with pitchers Colyn Buss and Ashton Mace leading the way for Wisconsin Dells.
Track and Field: Badger North-Baraboo and Waunakee at Reedsburg at 4:30 PM, Baraboo has won three of four conference duals on the girls side with a 3-0-1 boys record although official dual meet standings are not being kept this year with that having no impact on the conference standings. Baraboo also won the boys and girls team titles at their Freshman-Sophomore meet yesterday at Beryl Newman Field. Reedsburg's sprinters have been big on the girls side with the boys throwers performing well of late. Waunakee has won all four conference girls duals.
Portage at Sauk-Prairie 4:30 PM-Both squads for Portage are winless in the conference dual season with Kyle Mc Conville, Ricky Morales, Lianna Mack and Libby Molitor have led Sauk to some success on a team level within the conference.
Mount Horeb at De Forest-The Mount Horeb boys have not lost in five conference duals
SWC-River Valley at SWC mini-meet in Platteville
Girls Soccer: Badger North-De Forest at Baraboo 7 PM, De Forest is 1-1 in the conference with a 1-0 loss to Sauk and a 3-0 win over Mount Horeb while Baraboo is 0-2 in the conference with losses to Reedsburg and Sauk-Prairie with a 2-4 overall mark. Baraboo has just eight goals in the six matches.
Sauk-Prairie at Waunakee-Sauk leads Badger North at 2-0 with Waunakee 1-0
Mt Horeb is 0-1 in Badger North with a conference match at 1-1 Reedsburg at 5 PM. Reedsburg is 5-1-1 overall after a 4-0 win over Tomah yesterday.
Capitol Conference-Poynette-Portage at Lake Mills
Boys Tennis: Badger North-Portage at 0-2 plays at 1-1 Baraboo at 4:30 PM
Waunakee at 1-0 will play a 4:30 PM conference dual at 1-2 Reedsburg
Boys Golf: Badger North-Reedsburg at 0-4-1 plays at 2-2 De Forest at 3:30 PM
Portage at 4-1 plays a conference make-up today at 1-3-1 Baraboo at 3:30 PM at the Baraboo Country Club
SCC mini-meet at Westfield with Westfield the overall points leader
SWC mini-meet at Platteville