by Matz ~ May 7th, 2013. Filed under:
Matz on Sports
.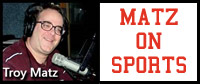 Baseball: Badger North-Waunakee 7 Reedsburg 5, Waunakee scores six runs in the last of the sixth off of three different Reedsburg pitchers to rally for the win. The two teams combined for just eight hitsd and Wyatt Ernstmeyer had two of the  five Reedsburg hits. Seth Douglas was cruising as the starting pitcher for the Beavers through five innings before the sixth inning trouble with Steve Gavin taking the loss in relief as the Beavers fall to 2-3 in conference with two of the losses vs Waunakee. Waunakee improves to 4-1 in league play while Reedsburg has Milton at home today.
SCC-Wisconsin Dells 6 Mauston 1, Dells gets a one-hit shutout pitching performance over six innings with seven strike-outs from winning pitcher Colyn Buss. Diggy Cimaroli, Ashton Mace and Josh Gray all with two hits for the Chiefs who are now 4-1 in the conference and now tied in the loss column for first place with Westfield who lost 3-1 vs Westfield.
Scenic Bluffs-New Lisbon 5-0 over Wonewoc-Center
Softball: Badger North-De Forest 5-0 over Reedsburg as winning pitcher Katie Klein throws a two-hit shutout with 11 strike-outs for 5-2 De Forest in her second shutout pitching performance of the season vs Reedsburg. Anna James takes the loss for Reedsburg, now 0-10 in the conference. Reedsburg plays at Milton today.
SCC-Wisconsin Dells 10-1 over Mauston with Bre Frederick pitching a three-hitter while Dana Percival and Claire Picha each homered and each drove in four runs with Dells now 4-3 in league play.
SWC-River Valley 10-1 over Richland Center behind the three-hit pitching of Kylie Hoffman while Vanessa Clarson and Mackenzie Price had three hits each for the victorious Blackhawks.
Scenic Bluffs-New Lisbon 3-0 over Wonewoc-Center while Hillsboro splits a DH with Bangor
Track and Field: Baraboo boys and girls both win team titles at the Freshman-Sophomore meet at Beryl Newman Field. Carlie Zimmerman and Erica Pleau each win two events for the Baraboo girls with Brooke Hertzfeldt for the Sauk girls and Nick Hasler and Dustin Tourdot for the Reedsburg boys also winning two events each.
Boys Tennis: Madison Edgewood 6 Sauk-Prairie 1 with Coday Mack at three singles the lone winner for the Eagles who loses just their second dual match of the season.
Oregon 7 Portage 0
Girls Soccer: Reedsburg 4 Tomah 0-Kate Fearing and Mari Hauko each had two goals for the Beavers who are 5-1-1 overall. Tiernee Schronk made five saves for the shutout in goal
Boys Golf: Badger North-Portage 173 Mount Horeb 174 as Portage ends up 5-1 for the conference dual season and in first place going to the final 18-hole Conference Meet. Alec Gaffney shoots a 39 to lead Portage on Monday with Mount Horeb finishing 3-3 for the conference season.
UW-Baraboo Sauk County finished third on the men's side in the WCC tennis tournament over the weekend with Kyle Cysz at one singles, Brandon Hoege at five singles and Mark Hollendyke and Blake Koch at three doubles all placing second in the tournament as did Kayla Mc Gonigle at two singles for the women as the UW-Baraboo women's squad placed fifth in the final team scoring.
Feature winners on the first night of the racing season at Dells Raceway Park Saturday included Nick Nolden for the Late Models, Randy Breunig for the Sportsman division, Jimmy Robinson for the Pure Stocks and Steven Rozek for the Bandit cars.