by Matz ~ May 6th, 2013. Filed under:
Matz on Sports
.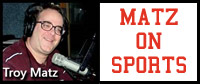 Track and Field: Baraboo boys place 9th at Friday's star studded field at the Madison Memorial Invite. Connor Drexler had times in the top ten in the state for Baraboo in the boys 200 and 400 this year and he placed second in both events Friday with the 3200 relay team of Zach Solles, Tyler Fiebig, Ben Bildsten and Zack Henry placing 3rd. Sam Trotter in the 3200 and Sean Cormican in the shot put had fifth place efforts while Henry in the 800, Garrett Getgen in the long jump and the 400 realy team of Brandon Ennis, Donalson Parker, Matt Bruch and Getgen all had top eight finishes in a field featuring some of the top track teams and individuals in the state. Baraboo hosts their annula Freshman-Sophomore meet today at 4 PM at Beryl Newman Field.
Boys Golf: Portage wins the small school team title at the Lake Wisconsin Invite by 20 shots over runner-up Lodi. Alec Gaffney shoots a 74 with Ty Magnum and Ben Herwig at 81 for the Warriors. Sauk-Prairie places 3rd, Baraboo 6th and Reedsburg 8th in the large school grouping at Wisconsin Dells with RJ Buss at 73 and Jack Rauner at 75 for Sauk-Prairie, Mark Topham at 77 and Mike Contino 86 for Baraboo and Tanner Keel 84 to lead Reedsburg.
Softball: Wisconsin Dells wins 13-8 over Tomahawk and loses 8-1 to Schofield DC Everest at DC Everest in tournament action. Bre Frederick was the winning pitcher vs Tomahawk with Hayley Buss collecting three hits with Frederick taking the loss vs Everest while the Lady Chiefs had just five hits offensively. Dells is 6-6 overall now for the season.
Northern Section Sunday League Home Talent Baseball: Ashton 12-4 over Sauk-Prairie with Matt Katzman the losing pitcher. Trent Sorg and Chuck Schara had two hits each for Sauk
Middleton 11-3 over Reedsburg-Justin Huinker and Kris Rosholt each had two hits for the Reedsburg Pirates.
Cazenovia 6-3 over Waunakee-Sam Overlein pitched six strong innings to get the win for the Reds
Black Earth 11-10 over Richland Center
Plain 10 Montello 0
Cross Plains 2-0 over Mazomanie
Portage is now 2-0 in the Eastern Section in the Sunday League after a 10-0 win over Rio as Trevin Kreier pitched a one-hitter over six innings and banged out three hits at the plate as did teammate Mike Jordahl.