by Matz ~ May 6th, 2013. Filed under:
Matz on Sports
.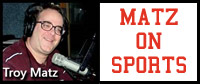 Baseball: Badger North-Reedsburg at Waunakee, Reedsburg still has eight Badger North games to get in as they face a team that beat them last week at Nishan Park 9-5. Reedsburg is 2-2 for the conference season and 5-2 overall with a Sauk-Prairie DH and non-league action with Milton and La Crosse Central all on the schedule for later this week as well. Waunakee is 3-1 in the conference and tied for first in the Badger North in the loss column with Portage and Mount Horeb. Today's contest is a make-up from April 4th.
South-Central Conference-Wisconsin Dells at Mauston, Dells is 3-1 in conference play with only a loss to Westfield and the Chiefs beat Mauston 13-0 in their first meeting with 17 base hits. This is a make-up from a postponement last week and the Chiefs have four scheduled games later this week after today.
Ridge and Valley-Weston at North Crawford
Softball: Badger North-Reedsburg at De Forest 5 PM, Reedsburg is still in search of conference win number one as they stand 0-9 after a 13-6 loss to Baraboo Thursday. Reedsburg is averaging only two runs per game in the conference season and must face ace pitcher Katie Klein and the Norskies who are 4-2 in the league and very much in the title picture. De Forest won 12-0 in the first meeting with defensive issues plaguing the Beavers that day. Reedsburg has Milton, Sauk and the Reedsburg Invite later this week.
Waunakee at Mount Horeb-Waunakee has won four in a row in Badger North to get to 5-3 with Mount Horeb at 3-3 including an early season win over Waunakee. This is a make-up from an April postponement and these two will also play tomorrow in Waunakee in a regularly scheduled game.
South-Central Conference-Wisconsin Dells at Mauston, this is a make-up from last week's postponement with Mauston hosting after game one between the two teams was moved to the Dells with Dells winning that one 15-5 and the Lady Chiefs are 3-3 for the conference season. Wisconsin Dells has Adams and two with Wautoma later this week in the SCC.
Ridge and Valley-Weston at North Crawford
Non-Conference-River Valley at Ithaca
Track and Field: Baraboo hosts their annual Freshman-Sophomore Meet at Beryl Newman Field with Reedsburg, Portage and Sauk-Prairie part of the field fo schools competing at 4 PM
Girls Soccer: Tomah at Reedsburg 5 PM-Reedsburg has a fine 4-1-1 overall record through six matches although the Beavers lost 8-1 to Waunakee on Thursday after giving up only one goal before that against lesser opponents. This is a make-up from an April 7th postponement and the Beavers have four matches later this week after today.
Boys Golf: Badger North-De Forest at Portage 2 PM with Mount Horeb at Portage at about 3:45 PM, Portage is 3-1 in conference and looking to wrap up the conference dual title with 2-2 De Forest and 3-2 Mount Horeb on the schedule today. Sauk has completed their conference dual season at 4-2 and Waunakee has two losses in the conference season. De Forest hosts Badger North action tomorrow as well.
Boys Tennis: Madison Edgewood at Sauk-Prairie-This match was suspended last week and will be completed today after a previous rain-out between the two teams already hampered the schedule. Sauk has lost only one dual this season to date and they're 2-0 in the Badger North picture.
Oregon at Portage-This will be the third attempt to play this non-conference dual with Portage having just one dual win so far this season. Portage goes to Baraboo tomorrow in Badger North as well.