by Matz ~ May 4th, 2013. Filed under:
Matz on Sports
.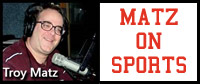 Baseball: Badger North-De Forest at Baraboo postponed, Baraboo is 2-4 in the conference with De Forest 0-6
Weston Invite in Cazenovia
Softball: Poynette Jamboree cancelled so Baraboo, Portage and River Valley all miss out on two games apiece
Wisconsin Dells at Schofield D.C. Everest, Dells is 5-5 overall and 3-3 in the SCC
Weston Invite in Cazenovia
Boys Golf: Baraboo, Reedsburg, Portage, Wisconsin Dells at the Sauk-Prairie Invite at Lake Wisconsin at 11 AM. Portage leads Badger North at 3-1 with Sauk 4-2, Baraboo 1-3-1 and Reedsburg 0-3-1 with Wisconsin Dells second behind Westfield in the SCC standings.
Girls Soccer: River Valley hosts a Triangular with Holmen and Clinton. River Valley lost 4-1 to Platteville on Thursday
Boys Tennis: Sauk-Prairie at the Stoughton Invite at 8:30 AM, Sauk leads the Badger North standings at 2-0
Portage Quad at 10:30 AM with Black River Falls, Mauston and Holmen, Portage is 0-2 in BadgerNorth duals.
UW-Baraboo Sauk County tennis teams at the W.C.C. Tournament at Nielsen Tennis Stadium at UW-Madison
Dellls Raceway Park begins it's racing season tonight with Late Models, Sportsman, Pure Stock and Bandits divisions all in action with fan gates open at 4 PM, qualifying at 5:15 PM and racing at 7 PM.