by Matz ~ May 3rd, 2013. Filed under:
Matz on Sports
.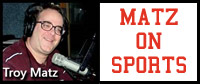 Softball: Badger North-Baraboo 13 Reedsburg 6, Baraboo breaks a two-game conference losing skid with12 hits including HR's from Jess Carignan and Kaitlin Stieve and those two and Liz Carignan had three rbi's apiece as well for a Baraboo team that is now 6-4 in conference. Jess Carignan allowed four runs, two earned, in five innings to get the win. Anna James was the losing pitcher for Reedsburg but the Beavers had 13 hits with Carley Bill and Rachael Wuensch collecting three hits each and Anna James had two as well with the Beavers 0-9 in the conference.
Portage at Mount Horeb postponed
Non-Conference-Sauk-Prairie at Stoughton postponed
Baseball: Badger North-Reedsburg at Baraboo suspended in the second inning to Monday May 13 at 5 PM
Mount Horeb at Portage suspended in the second inning
Waunakee 18 De Forest 4-Waunakee improves to 3-1 in the conference with De Forest now 0-6
Non-Conference-Stoughton at Sauk-Prairie postponed
South-Central Conference-Wisconsin Dells at Wautoma postponed
Girls Soccer: Badger North-Sauk-Prairie 3-1 over Baraboo, Emma Kreitzman, Sierra Suchla and Nyssa Goeres score goals for Sauk who is now 2-0 in the conference and 3-4-1 overall. Jenna Liebfried scores the Baraboo goal late with the T-Birds 0-2 in conference and 2-4 overall
Waunakee 8 Reedsburg 1-Mari Hauko scores for Reedsburg with the Beavers now 1-1 in Badger North and 4-1-1 overall as Waunakee wins their league opener.
SWC-Platteville 4 River Valley 1
Boys Golf: Badger North-Portage 179 Sauk-Prairie 184, Ty Magnum leads 3-1 Portage with a 43 while RJ Budd scores 41 for 4-2 Sauk-Prairie
De Forest 171 Mount Horeb 173-De Forest improves to 2-2 for the conference season with Mount Horeb now 3-2.
Westfield wins the SCC boys golf mini-meet at Wautoma with Nekoosa second while Wisconsin Dells and Adams tied for third. Sean Kendall leads Dells with a round of 43 but Dells falls to second place behind Westfield at the present time in the overall league standings.
Boys Tennis: Reedsburg at Assumption postponed
Madison Edgewood at Sauk-Prairie postponed
Track and Field: Portage boys second and the girls third at the Waterloo Invite with Sam Elsner and Matt Bare winning two boys events each for the Warriors