by Matz ~ May 3rd, 2013. Filed under:
Matz on Sports
.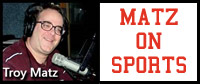 Track and Field: Baraboo boys at the Madison Memorial Invite at 5 PM at Mansfield Stadium, Baraboo won 17 of 18 events in a dual win over Portage Tuesday with Connor Drexler a double winner and several Baraboo tracksters won their first event of the varsity season. Coach Julie Faylona's Baraboo girls squad will not be in action today.
Sauk-Prairie's track teams postponed at the Wisconsin Rapids Invite on this Friday. Sauk competed with Reedsburg and De Forest Tuesday in Badger North with Kyle Mc Conville and Ricky Morales combining for five event wins on the boys side for the Eagles with AJ Musser, Justice Green, Lianna Mack, Libby Molitor, Erin Leege and three relays also coming away with first place finishes.
Reedsburg's high school tracksters head to the Stoughton Invite today for their second meet of the week at 4:30 PM. Brittany Schyvinck, Aly Mundth, Abby Clement, Sarah Zastrow, Jake Nemitz, Jason Whalen and three relays won titles for the Beavers at Tuesday's Badger North triple dual with De Forest and Sauk-Prairie.
Wisconsin Dells postponed at UW-La Crosse for a boys high school track meet today after the girls placed third and the boys fourth at Tuesday's six-team Wautoma meet. Karissa Mace, Dan Sweeney and Byron Beyer all posted first's in one event Tuesday for the Dells Chiefs.
River Valley's track teams also host their multi-team Invite today in Spring Green
Baseball: Non-Conference-Tomah at Reedsburg cancelled. Reedsburg is 5-2 overall but were suspended in their game at Baraboo yesterday with a make-up date of Monday May 13th after losing 9-5 to Waunakee Tuesday. Reedsburg is 3-0 in non-conference action for the season.
Badger North-Portage at Mount Horeb postponed to May 15
South-Central Conference-Wisconsin Dells at Mauston postponed to May 6. Dells is 3-1 in the conference and the Chiefs were postponed at Wautoma yesterday. Dells beat Mauston 13-0 in their first meeting this year.
Wautoma at Nekoosa
Adams-Friendship at Westfield-Westfield leads the conference at 5-0
SWC-Lancaster at River Valley
Softball: Non-Conference-Baraboo vs Union Grove and Westosha Central postponed for today at the Poynette Softball Jamboree. Baraboo is 8-5 overall after outslugging Reedsburg 13-6 with Jess Carignan and Kaitlin Stieve belting HR's for Baraboo. The entire tournament has been cancelled so no games for River Valley and Portage this weekend.
Portage at Oregon previously postponed to May 14 with today's conference make-up at Sauk postponed to May 8th. Portage is 6-2 to lead Badger North and they're 8-3 overall but were postponed with Mount Horeb yesterday.
Badger North-Reedsburg at De Forest postponed to May 6, Reedsburg is 0-9 in the conference after a 13-6 loss to Baraboo yesterday and one of those losses was 12-0 in Baraboo last week as Reedsburg was guilty of eight errors defensively. Reedsburg lost two more players to injury yesterday as their season long rash of injured players continues at an amazing rate. De Forest is 4-2 in the conference and in title contention led by pitcher Katie Klein.
South-Central Conference-Mauston vs Wisconsin Dells postponed to May 6 and the game will be at Mauston. Dells is 3-3 for the conference season and looking to snap a three-game conference losing streak. The Lady Chiefs topped Mauston 15-5 in their first meeting.
Nekoosa at Wautoma
Westfield at Adams-Friendship
SWC-River Valley at Richland Center
Boys Golf: Baraboo at Northern Bay Invite 10 AM-This will be Baraboo's third event of the week including a conference loss at Waunakee. Mark Topham has been the most steady performer for the Thunderbirds.
Sauk-Prairie, Reedsburg and Wisconsin Dells at the Portage Invite postponed to May 8 at the Portage Country Club. Sauk ends up 4-2 for the Badger North dual season after yesterday's loss in Portage while Reedsburg is still looking for their first Badger North win. Wisconsin Dells tied for 3rd in an SCC mini-meet at Wautoma yesterday after winning the first conference gathering at Northern Bay. Portage is 3-1 in Badger North duals and in the mix for the Badger North title.
Girls Soccer: Baraboo at Columbus postponed, Baraboo is 2-4 overall after suffering a 3-1 loss to Sauk-Prairie Thursday, snapping a two-match win streak. The three goals allowed were the second most this year by the Thunderbirds.
Sauk-Prairie at Tomah postponed-Sauk is 3-4-1 overall with two wins this week and a win today puts them at the .500 mark for the season. Sauk beat Platteville 2-0 on Monday and Baraboo 3-1 yesterday with three different goal scorers.
Poynette-Portage competes at the Lodi Quad with action beginning today. Poynette-Portage has lost to De Forest and Cambridge in shutouts earlier this week.
UW-Baraboo Sauk County tennis teams take part in the W.C.C. Tournament today and tomorrow at the Nielsen Tennis Stadium at UW-Madison