by Matz ~ May 1st, 2013. Filed under:
Matz on Sports
.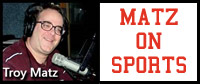 Baseball: Badger North-Portage 9 Baraboo 0, Anthony Korish throws a two-hit shutout for Portage with one walk and eight strike-outs as Baraboo has been held to no runs and just three hits offensively over the last two games combined. Clay Hinz took the loss for Baraboo with six walks and seven strike-outs while giving up five hits. A Brett Lentz two-run double in the fourth and a Sam Bortz three-run double in the fifth were big hits for 5-1 Portage with Baraboo now 2-4 and looking at a home game with Reedsburg tomorrow.
Sauk-Prairie 16 De Forest 7-Sauk had 11 hits and recieved 12 walks from De Forest pitching as they get back on track. The 3-3 Eagles scored in six of their seven at-bats with Alex Mayer collecting three hits and four rbi's  for Sauk while Sam Georgeson had three hits for the 0-5 Norskies. Riley Diske gave up six runs in six innings but it was good enough to get the win on the mound for the Eagles.
Waunakee 9 Reedsburg 5-Four Reedsburg pitchers combined to walk 11 batters with Blake Zibell taking the loss in relief. Reedsburg also had just five hits and Jordan Bill had two of those as the Beavers fall to 2-2 in the conference with Waunakee now 2-1.
South-Central Conference-Wisconsin Dells 2 Adams-Friendship 0-Colyn Buss throws a four-hit shutout with no walks and nine strike-outs to lead Dells to their third conference win in four league games. The Chiefs had only four hits themselves but they pushed across single runs in the second and fifth innings.
SWC-River Valley 10 Dodgeville 4
Softball: Badger North-Portage 6 Baraboo 2, Baraboo was guilty of five errors as they lose for the second time this year vs Portage. Three errors helped Portage score three times in the third inning and Jessica Parrot had two run-scoring singles later in the game for Portage who goes to 6-2 in conference with Baraboo now 5-3. Jenalee Wilson threw a five-hitter for Portage with one walk and seven strike-outs and Baraboo did not score until Karissa Fritsch's two-run double with two out in the seventh and Baraboo did not have a base runner to third until the final inning. Amy Schlender and Kaitlin Stieve had two hits each for Baraboo with Jessica Parrot with the two for Portage. Baraboo plays a key-make-up game today at De Forest as well with De Forest 3-2 in the conference.
De Forest 13 Sauk-Prairie 3-The Norskies belted out 18 base hits against Sauk pitchers Courtney Mefford and Alexa Meyer with Sauk falling to 3-4 in the conference with their third Badger North loss of the week. Katie Hacker had three of the 11 Sauk hits but De Forest goes to 3-2 in league play.
Waunakee 6 Reedsburg 0-Allie Taylor pitched a four-hitter with 11 strike-outs for Waunakee who is now in the league title chase at 5-3 with their second shutout win over the Beavers. Anna James allowed eight hits with two walks and two strike-outs as Reedsburg falls to 0-8 for the conference season despite two hits from Emily Mayer.
South-Central Conference-Adams-Friendship 13 Wisconsin Dells 3, winning pitcher Emma Roenneburg threw a three-hitter with five strike-outs while Dells pitchers Bre Frederick and Hayley Buss combined to walk ten and give up 12 hits with Dells now 3-3 for the conference season. Roenneburg also had three hits including a HR for Adams.
SWC-River Valley 3-0 over Lancaster as Freshman Kylie Hoffman throws a no-hitter with one walk and 12 strike-outs
Boys Golf: Badger North-Waunakee 175 Baraboo 185 at Waunakee, Mark Topham shoots 44 to lead Baraboo while Justin Boden, Jayson Baker and Dawson Hinz all scored 47 with Waunakee's Kyle Connors at 43. Baraboo falls to 1-3-1 for the conference season with Waunakee 2-2 now in Badger North.
Sauk-Prairie 171 Reedsburg 192 at Lake Wisconsin-RJ Budd at 39, Jack Rauner at 40 and Darrin Pulsfus at 44 pace Sauk who is 4-1 in Badger North with four straight conference wins. Max Sprecher at 46 and Cortland Maxfield at 47 lead Reedsburg who falls to 0-3-1 in the conference.
Lancaster beats out River Valley for the top spot at the SWC mini-meet in Richland Center with Alex Wedige at 39 for River Valley
Boys Tennis: Badger North-Sauk-Prairie 6-1 over Baraboo, Baraboo is now 1-1 for the conference season with Tanner Craker and Jacob Austin winning at three doubles for the Thunderbirds. Sauk is 2-0 in the conference with Sterling Walsh, Tyler Ballweg, Cody Mack and Logan Chrisler sweeping the singles matches and the doubles teams of Bryan Wilcox with Brendan Sullivan and Angus Mossman with Ben Kraus also victorious. Baraboo also lost 5-2 at Stoughton Monday with Drew Paulson in singles and the team of Austin Dietsch and Eli Andrew at three doubles with Baraboo wins that day
Reedsburg 6 Portage 1-Reedsburg improves to 1-2 in the conference with Nick Jepson and Colton Hahn, Adam Colvin and Zack Clisch and Mark Nowak with Aaron Svetly winning in doubles while Derek Webber, Ryan Sherwood and Jason Becker winning singles matches. Portage is 0-2 in the conference with David Johnson a winner at two singles.
Girls Soccer: Baraboo 3 Mauston 0-Cassie Siedschlag had two goals for the second straight match while Jenna Leibfried had a goal and an assist with all of the scoring in the second half. Courtney Foster had four stops in net with Baraboo now 2-3 overall after an 0-3 start.
Cambridge 10-0 over Poynette-Portage
Track and Field: Badger North-Baraboo wins a boys dual 118-28 and the girls dual 94.5 to 51.5 at Portage with the boys 3-0-1 and the girls now 3-1 for the conference season. Connor Drexler won two events for the boys with Ben Geenen, Zac Solles, Zack Henry, Marek Sokolowski, Tanner Klingenmeyer, Parker Donalson, Nick Stack, Ely Flesch, Garrett Getgen, Jared Price and Sean Cormican with four relay wins as well. Baraboo's girls squad gets two titles from Erica Pleau in the hurdle events with Emily Brinker, Alex Schwarz, Mc Kaela Christenson and Veda Shukula and two relays went to Baraboo as well. Portage's boys and girls squads are both now 0-5 in the conference.
Reedsburg and Sauk-Prairie were at DeForest in Badger North and area first's for the girls were turned in by Abby Clement, Aly Mundth, Brittany Schyvinck, Sarah Zastrow and the 3200 relay for Reedsburg with Lianna Mack, Libby Molitor, Erin Leege and the 400 and 800 relays for Sauk-Prairie. Area athletes on the boys side that won titles include Kyle Mc Conville in three events, Ricky Morales in two, Justice Green, AJ Musser and the 1600 relay for the Eagles and Jake Nemitz, Jason Whalen and the 400 relay and 800 relay for Reedsburg. Team scores were not kept as the dual meet standings are not factored into the final conference standings this year so some conference meets are not featuring team scoring.
Wisconsin Dells placed 3rd on the girls side and 4th on the boys side in a six-team meet at Wautoma on Tuesday. Karissa Mace in the pole vault was the lone girls first place finish with Hunter Hickey and Sam Conroy with second's while Dan Sweeney and Byron Beyer won events for the Dells boys with Michael Pakos and Jacob Synnott earning second place finishes.
UW-Baraboo Sauk County tennis teams host UW-Sheboygan at 3 PM today