by Matz ~ April 30th, 2013. Filed under:
Matz on Sports
.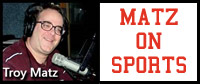 Track and Field: Badger North-Baraboo at Portage 4:30 PM, Baraboo has a 2-0-1 dual record in Badger North boys action while the Thunderbird girls are 2-1 with both teams winning over De Forest last week and both squads showed well against strong competition at the Baraboo Relays on Friday. Portage is off to an 0-4 start in Badger North boys and girls track but Sam Elsner is nationally ranked in the boys discus for the Warriors this spring.
Sauk-Prairie and Reedsburg at De Forest-Sauk is 0-3 early on in Badger North for the boys and girls but Kyle Mc Conville, AJ Musser, Lianna Mack and Libby Molitor have been strong individually. Reedsburg is 1-1 for the boys and 2-0 on the girls side in the conference and both teams finished second behind Mauston at Friday's Betsy De Merit Invite in Reedsburg. The De Forest boys and girls are both 1-2 for the conference dual season.
Mt Horeb at Waunakee-Mt Horeb is off to a big season with a 3-1 conference girls record and a 3-0-1 boys mark but Waunakee is 3-0 on the boys and girls side so far this spring.
Wisconsin Dells at SCC Quad in Wautoma-Dells had over 20 1st's in the first conference tack gathering last week including two apiece for Dan Sweeney, Hallie Hackl-Frank and Byron Beyer.
SWC-River Valley and Richland Center at Lancaster
Softball: Badger North-Portage at Baraboo at 5 PM at Pierce Park, both teams are at 5-2 in league play with Baraboo winning their last two league games Friday over Mount Horeb and Reedsburg while Portage has lost two straight in Badger North to Sauk-Prairie and Waunakee after a 5-0 start. Baraboo won two of three non-league games at Sun Prairie while Portage won two in their Invite Saturday as well. Portage edged Baraboo 3-1 in a pitchers duel in Portage to start the season anbd both teams are still in prime contention for the league title but the loser today will have more of an uphill climb. Listen to the game live with pre-game coverage around 4:50 PM with Troy Matz on 99.7 FM!
De Forest at Sauk-Prairie 5 PM-Sauk leads the conference at 3-1 after a big win vs Portage last week but the Eagles lost to Barneveld and River Valley at the Barneveld Tournament Saturday. De Forest is 2-2 in the conference and coming off an upset loss Friday night to Mount Horeb 6-5 in Baraboo.
Reedsburg at Waunakee 5 PM-Reedsburg is 0-7 in the conference, the only team that does not have at least two league victories
South-Central Conference-Wisconsin Dells at Adams-Friendship 5 PM-Dells is now 3-2 in the conference after a 7-3 loss to Westfield, their second loss to them in four days. Adams has the league's top pitcher in Emma Roenneburg.
Wautoma at Mauston
Westfield at Nekoosa
SWC-Lancaster at River Valley-River Valley is coming off a 4-3 win over Richland Center yesterday with winning pitcher Kylie Hoffman striking out nine and Laura Schmidt collected three hits.
Baseball: Badger North-Baraboo at Portage 5 PM, Baraboo is 2-3 for the conference season after a loss at Mount Horeb 1-0 Monday and Baraboo lost 6-1 vs Portage on Friday as well with errors defensively hurting the Thunderbirds that day. Portage leads the conference at 4-1 after pulling out a 5-4 win over Sauk-Prairie yesterday.
Sauk-Prairie at De Forest 5 PM-Sauk is 2-3 for the conference season after a 5-4 loss to Portage yesterday but the Eagles won 12-5 over De Forest in their first meeting with the Norskies 0-4 in league play, allowing 12 runs or more in each conference game. Sauk is 4-4 overall.
Waunakee at Reedsburg 5 PM-Waunakee has played just two league games with a 1-1 Badger North record while Reedsburg is 2-1 after belting two HR's in a 5-1 win Thursday over Mount Horeb
South-Central Conference-Adams-Friendship at Wisconsin Dells 5 PM, Dells is 2-1 in the conference with wins over Mauston and Nekoosa and a 2-1 loss to Westfield.
Nekoosa at Westfield
Mauston at Wautoma
SWC-Dodgeville at River Valley
Boys G0lf: Badger North-Baraboo at Waunakee 3:30 PM, both teams are looking to move up in the conference standings with Baraboo 1-2-1 in league play and Waunakee is 1-2 in conference duals. Baraboo was 7th among eight teams at Saturday's Sparta Invite and Mark Topham shot 78 at Trappers Turn yesterday as part of the Wisconsin Dells Invite.
Reedsburg at Sauk-Prairie 3:45 PM at Lake Wisconsin-Reedsburg is 0-2-1 in the conference while Sauk-Prairie has won three straight conference duals including wins over Mount Horeb and Waunakee to put themselves in title contention.
Boys Tennis: Badger North-Baraboo at Sauk-Prairie 4:30 PM, Baraboo is 1-0 in the conference season with a 6-1 win over Reedsburg with Sauk-Prairie also 1-0 with a 7-0 win over Reedsburg in their league opener.
Reedsburg at Portage 4:30 PM, Reedsburg has started 0-2 in the conference season while Portage is at 0-1 in Badger North.
Girls Soccer: Non-Conference-Baraboo at Mauston 5 PM, Baraboo is coming off their first win of the season Saturday 3-0 over La Crosse Central behind two goals from Cassie Siedschlag and the 1-3 Thunderbirds have allowed only three goals in the last three matches after giving up seven to Lodi in the opener. Mauston lost 3-0 to Reedsburg yesterday.
Capitol Conference-Cambridge at Poynette-Portage at 6:30 PM at Veterans Field, Poynette-Portage lost 7-0 to De Forest Monday
SWC-Dodgeville at River Valley
UW-Baraboo Sauk County tennis teams host UW-Marshfield at 2 PM and UW-Waukesha at 5 PM today. Kayla Mc Gonigle and Brandon Hoege won singles titles and Blake Koch and Mark Hollendyke teamed up for a doubles crown for UW-Baraboo Sauk County at Saturday's tournament at UW-Marshfield.