by Matz ~ April 30th, 2013. Filed under:
Matz on Sports
.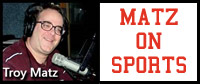 Baseball: Badger North-Mount Horeb 1-0 over Baraboo, Baraboo's Jameson Traxler threw a complete game seven-hitter with three walks and two strike-outs but took the loss as Mount Horeb's Jake Zander pitched a one-hitter and allowed two batters to reach base the whole game in shutting down the Thunderbirds with both teams not committing an error defensively. Baraboo falls to 2-3 in the conference with Mount Horeb now 3-1.
Portage 5-4 over Sauk-Prairie-Sam Bortz threw a four-hitter with five strike-outs to lead Portage to the win and a 4-1 conference record. Paul Zech homered in the loss for 2-3 Sauk-Prairie and he took the loss in relief of Jared Schaaf with three of Portage's five run scoring on wild pitches.
Softball: South-Central Conference-Westfield 7 Wisconsin Dells 3, Wisconsin Dells was held to just three hits by Clair Winter with Bre Frederick taking the loss after throwing a seven-hitter for the Lady Chiefs.
Badger North-Sauk-Prairie loses both ends of a DH vs Waunakee 6-5 and 11-1 as the Eagles fall out of first place to a league mark of 3-3 with Waunakee now 4-3 in Badger North
SWC-River Valley 4 Richland Center 3-Kylie Hoffman throws a six-hit shutout with nine strike-outs and Laura Schmidt had three hits for the Blackhawks
Girls Soccer: Sauk-Prairie 2-0 over Platteville on goals from Lindsay Sauer and Nyssa Goeres with Sauk now 2-4-1 overall
Redsburg 3-0 over Mauston as Kate Fearing scored two goals for the 4-0-1 Beavers who also won 5-0 over Richland Center Friday.
De Forest 7-0 over Poynete-Portage
Boys Tennis: Reedsburg 6 Tomah 1 with Derek Webber, Ryan Sherwood and Jason Becker winning singles matches with all three doubles teams winning as well-Nick Jepson with Colton Hahn, Adam Colvin with Zack Clisch and Mark Nowak with Aaron Svetly