by Matz ~ April 29th, 2013. Filed under:
Matz on Sports
.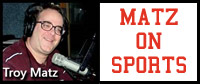 Baseball: Badger North- 2-2 Baraboo at 2-1 Mount Horeb 5 PM, Baraboo is coming off a 6-1 loss to Portage Friday while Mount Horeb started 2-0 in Badger North before stranding 15 base runners in a 5-1 loss at Reedsburg last Thursday. This is a make-up from an Apri 11th postponement.
2-2 Sauk-Prairie at 3-1 Portage 5 PM-Sauk beat Portage 7-4 on Thursday to keep themselves in the conference title picture with that being Portage's only conference loss. This is a make-up from an April 2nd postponement.
Non-Conference-Wisconsin Dells at Deerfield, Dells is 2-1 in the SCC with wins over Mauston and Nekoosa and a 2-1 loss to Westfield and this would be the Chiefs first non-league game.
Softball: Badger North-2-3 Waunakee at 3-1 Sauk-Prairie 5 PM-Waunakee completed a suspended game victory over contender Portage Friday while the Sauk girls stand alone in first place in Badger North at 3-1 including a big win over Portage last week.
SCC-Wisconsin Dells at Westfield in a make-up from an April 9th postponemnt. Dells is 3-1 in the conference after a 10-5 loss to Westfield on Friday while Westfield is projected as a conference title contender.
Non-Conference-Westby at Weston
Boys Golf: Wisconsin Dells Invite at Christmas Mountain and Trappers Turn in a re-schedule from April 12th and 13th with now a one-day event scheduled. Reedsburg and Sauk-Prairie will take part today but other area squads will not be in action as originally scheduled. Sauk placed second at Saturday's River Valley Invite and also sit at 3-1 in Badger North.
Boys Tennis: Non-Conference-Baraboo at Stoughton 4:30 PM, Baraboo won 6-1 over Reedsburg Friday for their first Badger North win and their second overall.
Madison Edgewood at Sauk-Prairie postponed to May 2-Sauk is 4-1 overall including a 7-0 conference win over Reedsburg last week
Reedsburg at Tomah 4:30 PM-Reedsburg is 2-4 overall in six duals with wins over Mauston and Fort Atkinson
Girls Soccer: Non-Conference-Platteville at Sauk-Prairie 7 PM, Sauk is 1-4-1 overall after two losses and a tie at the East Troy Invite Saturday. The lone win came against De Forest 1-0 in Badger North
Mauston at Reedsburg 5 PM-Reedsburg has wins over Mauston and Baraboo early on this season and are playing strong in their defensive end especially
De Forest at Poynette-Portage 6:30 PM at Veterans Field
SWC-River Valley at Galena, Illinois