by Matz ~ April 27th, 2013. Filed under:
Matz on Sports
.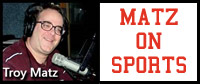 Softball: Baraboo plays their first three non-league games of the spring today at the Sun Prairie quad as they take on Schofield DC Everest, La Crosse Central and Sun Prairie starting at 10 AM.  Baraboo is 5-2 for the season, all in Badger North after a 9-0 win over Mount Horeb and a 13-0 win over Reedsburg yesterday at Pierce Park with Baraboo banging out a combined 27 hits with pitcher Jess Carignan allowing no runs on just three hits with 17 strike-outs combined in the two games.
Sauk-Prairie and River Valley will play in a tournament today at Barneveld. Sauk suddenly leads the Badger North standings at 3-1, the only team with less than two conference losses, and the Eagles are 4-1 overall with a three-game win streak. River Valley is near the top of the SWC standings with Freshman Kylie Hoffman leading the way with some gems from the mound so far this spring including a no-hitter.
Portage softball hosts their own invite today at 10 AM with Lodi, Poynette, Dodgeland, La Crosse Logan, New Lisbon and Portage in the field. Portage has fallen out of the top spot in the Badger North standings with a loss to Sauk-Prairie Thursday 5-3 and they lose to Waunakee yesterday 8-4 in the completion of a suspended game with Portage now 5-2 in the league and 5-3 overall now with more games on the docket for today.
Baraboo's girls soccer squad plays again in La Crosse today at 11 AM against the Central Red Raiders. Baraboo fell to 0-3 last night with a 2-0 loss at La Crosse Logan with Baraboo tallying only one goal in three matches so far but have shown a stronger defense this week after an opening 7-1 loss to Lodi
Sauk-Prairie's girls soccer team will have a busy day with multiple matches at the East Troy Invite at 9 AM. Sauk is 1-2 overall now after Thursday's win 1-0 over De Forest on a Nyssa Goeres goal.
Baraboo sends their boys golf team to the Sparta Invite today at 8:30 AM. Baraboo took part in a Badger North triangular yesterday and scored 186 as did Reedsburg at the Reedsburg Country Club with Portage at 177. Jayson Baker scores 43 for Baraboo and Mark Topham led Baraboo to a third place finish at Thursday's Lake Arrowhead Invite.
Sauk-Prairie and Portage will be part of the field today at the River Valley boys golf invite at the House On The Rock course near Spring Green at 9 AM. Sauk won three Badger North duals this week to put themselves in conference title contention and Sauk had a strong fourth place finish at the Monona Grove Invite as well. Portage is off to a good start as well in Badger North including a win over Reedsburg and Baraboo in a triangular yesterday with Ben Herwig shooting 43. River Valley won a SWC mini-meet Thursday with Graham Westely shooting a 37 for the Blackhawks.
Wisconsin Dells boys golf at Lake Arrowhead today for the second time in three days for an invite
UW-Baraboo Sauk County men's and women's tennis at UW-Marshfield for a tournament today after winning 9-1 in men's action Thursday at UW-Marshfield in a conference dual