by Matz ~ April 26th, 2013. Filed under:
Matz on Sports
.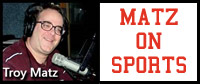 Softball: Badger North-De Forest 3 Baraboo 1, Baraboo suffers their second loss of the conference season collecting only four hits and striking out 10 times against winning pitcher Katie Klein. Baraboo did waste a couple of prime scoring chances and it cost them in the end. De Forest put forth an impressive display offensively with 11 base hits against Jess Carignan who walked nobody and struck out three and was helped by some strong defensive work for the Thunderbirds throughout the day. Amy Loose had four hits for De Forest and Kortini Kohl had three rbi's while Carignan had two of the Baraboo hits. Baraboo is now 3-2 for the conference season with De Forest 1-1.
Sauk-Prairie 5 Portage 3-Sauk-Prairie is a contender in the Badger North race, going to 3-1 with this win. Portage committed five errors defensively and Sauk took advantage, scoring two unearned runs in the third inning and sixth inning with Portage now 5-1 in the conference. Courtney Mefford pitched an eight-hitter with six strikeouts to get the win with losing pitcher Jenalee Wilson allowing seven hits.
Mount Horeb 7 Reedsburg 3-the Beavers stranded nine base runners with Anna James banging out three of the nine Reedsburg hits and was the losing pitcher with three walks and seven strike-outs. Reedsburg is 0-5 for the conference season.
Non-Conference-Sparta 7 Wisconsin Dells 3 with the Lady Chiefs falling to 5-2 overall. Bre Frederick took the loss and Payton Lindner had three hits in defeat
SCC-Westfield 15 Mauston 1
SWC-River Valley 5 Prairie Du Chien 0
Baseball: Badger North-Baraboo 14 De Forest 6, Baraboo scored nine runs in the seventh to break the game open and go to 2-1 in Badger North. Jameson Traxler had three hits while Griffin Nicksic, Matt Meyer and Clay Hinz had two hits each in a 14-hit attack. Traxler pitched a complete game as well for the Thunderbirds and held the 0-4 Norskies in check for the most part.
Sauk-Prairie 7 Portage 4-Alex Mayer had two hits and Riley Diske three rbi's for the 2-2 Sauk-Prairie Eagles with Diske the winning pitcher with Anthony Korish taking the loss for 2-1 Portage with Jordan and Jalen Walker each with two hits.
Reedsburg 5 Mount Horeb 1-Seth Douglas and Jordan Bill each homered for the Beavers with Wyatt Ernstmeyer the winning pitcher for the 2-1 Beavers. Mount Horeb is 2-1 in the conference as well and they stranded 15 runners in the game while scoring only the one run.
SCC-Westfield 18 Mauston 2
SWC-River Valley wins 10-0 and 7-1 over Richland Center
Girls Soccer: Badger North-Reedsburg 1 Baraboo 0 in OT, Kate Fearing scores the game-winning goal for the Beavers in the 85th minute in the conference opener for both squads with Reedsburg 2-0-1 overall with Baraboo 0-2 overall
Sauk-Prairie 1 De Forest 0-Nyssa Goeres scores the game-winner for Sauk who is 1-2 overall after winning their league opener
Boys Golf: Baraboo places 3rd at the Lake Arrowhead Invite with Mark Topham shooting 82 and Mike Contino 83 for the Thunderbirds who also got an ace from Brody Bailey on the par 3 162-yard 17th hole yesterday.
Sauk-Prairie placed fourth at the MG Invite at the Oaks with jack Rauner shooting 72 and RJ Budd 73 for the Eagles. Reedsburg finished next to last with Cortland Maxfield at 93 to lead the Beavers.
River Valley wins an SWC mini-meet at Prairie Du Chien with Graham Westely shooting a 37 for the first place Blackhawks
Boys Tennis: Monroe 6-1 over Baraboo with Drew Paulsen winning at three singles for the 1-3 Thunderbirds
Reedsburg 5-2 over Fort Atkinson with the Beavers getting wins from Derek Webber and Austin Ruland in singles and the three doubles teams of Nick Jepson with Colton Hahn, Adam Colvin and Zack Clisch and Mark Nowak with Jason Becker
Stoughton 7-0 over Portage