by Matz ~ April 26th, 2013. Filed under:
Matz on Sports
.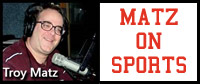 Track and Field: 48th annual Baraboo Relays at 3:45 PM at Beryl Newman Field, the seven-team field consists of Sauk-Prairie, Tomah, Columbus, Beaver Dam, Madison La Follette and Madison Memorial along with the Thunderbirds with two individual events scheduled with the rest of the events staged as relays. The traditonal Old Timers Mile will take place around 7:30 where those from the general public can sign up and run a one-mile race on the recently refurbished Beryl Newman track. Baraboo AD Aaron Andres will also host a ceremony just before that to honor and recognize those key fund raisers and donaters who made the Beryl Newman Field project possible. Baraboo won big over De Forest in boys and girls Badger North duals Tuesday while the Sauk boys and girls both lost big in duals vs Waunakee.
The Betsy De Merit Invite has taken place for over 20 years now for the Reedsburg Beavers track program and this year's edition is set for today at 4:30 PM at Millenium Field. The event is named after Reedsburg teacher and coach Betsy De Merit who started the high school girls track program in Reedsburg and led the Beavers to a title in the first ever State girls track meet in 1971 and was a pioneer for girls sports at the high school level in Reedsburg and state-wide. Betsy was inducted in the Wisconsin Track Coaches Association Hall Of Fame in 2007. Wisconsin Dells, Adams, Mauston, Royall and Richland Center will be among the nine teams competing. Reedsburg went 2-0 on the girls side and 1-1 in the boys side Tuesday in conference duals with Wisconsin Dells earning over 20 1st's at the SCC quad in Adams Monday.
Portage at the Oregon Invite-Sam Elsner of Portage is ranked nationally in the boys discus with his top throws this spring.
River Valley at Wisconsin Heights Invite
Softball: Badger North-Mt Horeb at Baraboo 5 PM at Pierce Park, this is a make-up from an April 11th postponement with both teams 3-2 in the conference after Baraboo lost to De Forest 3-1 and Mount Horeb won 7-3 over Reedsburg. You can hear the game  live with pre-game coverage around 4:50 PM on 99.7 FM with Troy Matz.
Reedsburg at Baraboo at about 6:45 PM at Pierce Park, this make-up game was originally scheduled for Monday but will be played today instead. Reedsburg is 0-5 in the conference entering the day and 1-6 overall after a 7-3 loss to Mount Horeb yesterday. Reedsburg has scored just 12 runs total in their five league games.  Some special cancer awareness and fund raising events will also be going on today and tonight at Pierce Park with a 50/50 raflle and silent raffle taking place and there will be a ceremonial first pitch prior to the Baraboo-Reedsburg game as well. Those in attendance who have lost a loved one or friend to cancer can honor that person by by placing purple sand on the field in a special ceremony as well.
De Forest vs Reedsburg at 5 PM at Baraboo's Pierce Park, De Forest is 1-1 in the conference after Katie Klein piched a four-hitter with ten strike-outs yesterday to lead De Forest past Baraboo 3-1.
De Forest vs Mount Horeb at 6:45 PM at Pierce Park
Waunakee at Portage in the completion of a suspended game with Waunakee leading 8-3. If the score holds, it would be Portage's first conference loss.
South-Central Conference-Westfield at Wisconsin Dells 5 PM at Kaminski Park, Dells is 3-0 in league play and they've scored 46 runs in those three wins including a DH sweep of Nekoosa Tuesday.The Lady Chiefs are 5-2 overall.
Nekoosa at Mauston
Adams-Friendship at Wautoma
Baseball: Badger North-Portage at Baraboo 5 PM at Mary Roundtree Evans Field, Portage comes to the circus city at 2-1 in league play after a 7-4 loss to Sauk-Prairie Thursday and Baraboo is also 2-1 in Badger North after a 14-6 win at De Forest yesterday with Baraboo 2-2 overall and Portage 3-2 overall for the season. This is a make-up from an April 4th postponement.
South-Central Conference-Wisconsin Dells at Westfield, Dells is 2-0 in the conference, winning 13-0 over Mauston and 4-2 over Nekoosa with Colyn Buss and Ashton Mace each with a strong outing.
Wautoma at Adams-Friendship
Mauston at Nekoosa
Girls Soccer: Baraboo plays tonight and tomorrow at La Crosse Logan and Central, Baraboo fell to 0-2 overall with a Badger North loss 1-0 to Reedsburg last night.
Richland Center at Reedsburg 5 PM-The Beavers are 2-0-1 overall after Thursday's 1-0 win at Baraboo. Today's match is a make-up from a March postponement.
Boys Golf: Badger North-Portage at Reedsburg 3:30 PM, Portage is 1-0 in the conference with a win over De Forest while Reedsburg is 0-2 with losses to Mount Horeb and Waunakee. Portage's make-up dual with Sauk is now on May 2nd.
Boys Tennis: Badger North-Reedsburg at Baraboo 4:30 PM, Reedsburg is 0-1 in the conference with a 7-0 loss to Sauk and the Beavers are 2-3 overall after a 5-2 win over Fort Atkinson Thursday. Baraboo has yet to play a conference match but the Thunderbirds are 1-3 overall after a 6-1 loss to Monroe yesterday.