by Matz ~ April 9th, 2013. Filed under:
Matz on Sports
.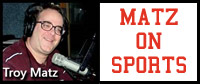 Softball: Badger North-Reedsburg at Baraboo postponed to April 29, Baraboo is 1-1 overall and in league play with a 3-1 loss to Portage and a 9-1 win yesterday over Waunakee. Jess Carignan has 18 strike-outs and no walks through two games on the mound for the Thunderbirds. Reedsburg lost their opener to Portage 10-4 yesterday despite nine base hits with errors and walks hurting the cause.
Mount Horeb at Portage postponed to April 22-Mt Horeb lost 8-7 to Sauk-Prairie in their league opener and they are 1-2 overall with Portage 2-0 in the conference with wins over Baraboo and Reedsburg and 2-1 overall
De Forest at Waunakee postponed to May 8-Waunakee loses the league opener 9-1 at Baraboo Monday
South-Central Conference-Wisconsin Dells at Westfield postponed to April 29 with Dells still looking to get their season underway
Wautoma at Adams-Friendship
Mauston at Nekoosa
Non-Conference-Stoughton at Sauk-Prairie postponed, Sauk is 1-0 with an 8-7 win over Mt Horeb last week
SWC-Lancaster at River Valley in a site change
Baseball: Badger North-Baraboo at Reedsburg postponed to May 23-Baraboo lost 11-1 to Tomah Saturday in their only game of the season while Reedsburg won 10-1 over Mauston Monday in their season opener with four Reedsburg pitchers combining for 17 strike-outs.
Portage at Mount Horeb postponed to May 3-Portage lost 10-3 vs Waupun in their opener Saturday
Waunakee at De Forest postponed to May 8
Non-Conference-Sauk-Prairie at Stoughton postponed, Sauk-Prairie crushed River Valley 12-2 Monday in their first game of the season with a 14-hit offensive attack.
Track and Field: Baraboo, Reedsburg, Portage and Sauk-Prairie at the 12-team Portage Invite postponed to April 15th. Emily Brinker and Connor Drexler had top five finishes at the prestigous WTFA Meet at UW-Whitewater Saturday for the Baraboo Thunderbirds with Britany Schyvinck the top Reedsburg finisher. Kyle Mc Conville, Ricky Morales and Lianna Mack have led the way early for Sauk-Prairie.
Sauk-Prairie at Mauston Meet is cancelled
Wisconsin Dells at Adams postponed to April 22
Prairie Du Chien and Dodgeville at River Valley postponed
Boys Tennis: Non-Conference-Baraboo at Stoughton postponed to April 29th.  Baraboo is still looking to open their season after being postponed at La Crosse until April 20th with those non-conference duals. Coach Karl Kruse has a large group of veterans for the Baraboo squad although a couple of them will be out early in the season.
Sauk-Prairie at Monroe postponed-Sauk is still looking to open their season for coach Casey Haselwander after Saturday's postponements in La Crosse. Sterling Walsh, Cody Mack and Tyler Ballweg all return from last year's singles lineup.
Reedsburg at Milton postponed-Reedsburg looks to open the season with only four returnees from last year's lineup with Derek Webber at one singles.
Oregon at Portage postponed to April 18
Girls Soccer:Non-Conference- Sauk-Prairie at Watertown postponed-Sauk's first two matches have already been postponed with Nyssa Goeres, Emma Kreitzman and Georgia Breunig returning as all-league second teamers for the Eagles.
SWC-Prairie Du Chien at River Valley
Boys Golf: Badger North-Baraboo at Mount Horeb postponed to April 15th, Baraboo looks to play their season opener today with Mark Topham a returning all-league first teamer and Jayson Baker is another returning regular for coach Landon Brownell.
UW-Baraboo Sauk County Men's and Women's tennis postponed in their home dual with UW-Rock County with a make-up date of April 24th at 3 PM