by Matz ~ April 8th, 2013. Filed under:
Matz on Sports
.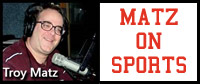 Sam Terry of Baraboo has been named as the Area Player Of The Year in girls basketball by the Wisconsin State Journal who announced all of their all-area winter sports teams over the weekend. Terry also was chosen as Miss Basketball for this season by the WBCA and the UW-Green Bay recruit also was named All-State first team by Associated Press. Terry scored 18 points per game this season with eight rebounds per contest and scored 1376 points in her high school career. Terry is an all-are first team choice for D-2 with Senior Emily Brinker of Baraboo at over 15 points per game and Senior Beth Maenpaa of Reedsburg at over 14 points per game earning second team honors while Sauk-Prairie Junior Georgia Breunig was honorable mention. Sophomore Emma Roenneburg of Adams-Friendship is a first team choice in D-3 for the Wisconsin State Journal all-area team with a 16 point per game scoring average with Junior Andrea Thomas of Mauston on the second team at over 18 points per game and Junior Leigh Drury of Richland Center was honorable mention. Hillsboro Senior Hilary Stanek was a first team chocie for D-5 at over 13 points per game with Stanek a two-time Scenic Bluffs Conference Player Of The Year.
The all-area boys basketball teams from the Wisconsin State Journal include Senior Capreace Salinas of Reedsburg and Senior Daniel Beck of Portage on the second team for D-2 with both over 14 points per game on the season. Senior MJ Delmore of Wisconsin Dells is a first team choice for D-3 at over 21 points per game while Senior Shane Wimann of Wisconsin Dells at over 18 per game and Senior Joel Heesch at nearly 24 points per game were second team selections with Senior Alec Adist of Richland Center honorable mention. Nate Scheeter of Royall High School earns a first team nod in D-5 at nearly 16 points per game while teammate Sam Murphy is a second team choice after scoring over 13 points per game.
Area high school wrestlers earning first team all-area honors from the Wisconsin State Journal include Freshman Hunter Dischler of Weston-Ithaca, Junior Spener Davies of Mauston, Senior Seth Liegel of River Valley and Senior Christian Moore of Royall with Moore, Liegel and Dischler winning state titles. Second team selections include Freshman Eddie Smith and Junior Austin Fjoser of Sauk-Prairie and Junior Cody Willis of Weston-Ithaca while the honorable mention list includes Sophomore Trevor Hanson of Baraboo, Junior Nate Erbs of Reedsburg, Senior Colin Dolata of Mauston, Freshman Austin Powell of Sauk-Prairie, Junior Joe rook of River Valley, Junior Brandon Sprecher of Sauk-Prairie, Senior Jared Schaaf of Sauk-Prairie, Junior Zach Koch of River Valley, Senior Atticus Sharp of Weston-Ithaca, Senior Caleb Sisbach of Sauk-Prairie and Senior Spencer Shier of Portage.
No area boys hockey players earned first or second team honors for the Wisconsin State Journal but honorable menti0n honors went to Junior Tyler Laux and Senior Brett Mc Cutchin of Baraboo-Portage, Junior Luke Mc Elhenie of the Sauk-Prairie coop and Senior Cortland Maxfield from RWD. Senior Leigh Stawinoga and Junior Kristen South of the Badger Thunder girls hockey coop were named to the all-area second team for girls hockey while no athletes from our immediate area were recognized in boys swimming and girls gymnastics.