by Matz ~ April 2nd, 2013. Filed under:
Matz on Sports
.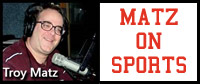 Baraboo American Legion Baseball, Inc. is seeking nominations for the inaugural class that will be inducted into the newly created Baraboo Baseball Hall Of Fame. Baraboo has a rich tradition of outstanding baseball teams, players, coaches and supporters who have impacted the game locally at all levels over the past 70 plus years and the newly formed Baraboo Baseball Hall Of Fame seeks to honor those contributions. The selection committee will consider nominees who have made a local impact on the game of baseball at any level throughout the years.
The inaugural class will be announced at the beginning of June and the inductees will be honored and presented with their Hall Of Fame plaques during Baraboo Baseball Day on June 22nd at Mary Roundtree Evans Field.
If you would like to nominate yourself or someone else for Hall Of Fame consideration, please include information such as name of the nominee, years of participation in the baseball community, roles served, highlights, accomplishments and achievements along with the nominators name and contact information. E-mail this information to baraboolegionbb@hotmail.com or send hard copy to Baraboo Legion Baseball, S4128 Whispering Pines Drive, Baraboo, Wi. 53913.
Nominations must be submitted by May 15th for consideration for this year by the selection committee.