by Matz ~ April 1st, 2013. Filed under:
Matz on Sports
.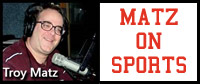 Area high school boys golfers are hoping they can get out on the course sometime soon as the 2013 season approaches. Landon Brownell takes over as head coach for the Baraboo program after sharing that role last year with Jim Stephens and Brownell loses three regulars from a third place Badger North team last year that also advanced to the WIAA Sectional including all-league second teamer Mike Bostwick along with Ryan Downing and Will Hintz. All-league first teamer Mark Topham returns along with Jayson Baker for this year.
Coach Tim Marshall's Sauk-Prairie squad placed second in the Badger North last year led by all-league first teamer and Sectional qualifier RJ Budd who returns as one of the area's top players with Nick Huerth and Josh Nachreiner also returning from last year's lineup.
Reedsburg tied for 4th in Badger North last year and they lose Sectional qualifiers in Brandon Andreasen and Matt Garrison with Andreasen also all-league first team and Garrison on the second team. Coaches Mark Johnson and Jesse Monte do return Kyle Burmester, Jeremy Grundahl and Tanner Keel from last year's lineup to provide a good nucleus.
Wisconsin Dells won a seventh straight SCC boys golf title a year ago and qualified for Sectional play as a full team but coach Troy Ryan loses all-league first teamers Jared Seufzer and Bryce Buesing and second teamer Caleb Fedewa. Sean Kendall is back as a first team all-league performer but there will be some new faces in this year's lineup.
All of the area squads are scheduled to open the regular season next week with Sauk on April 8th and Baraboo April 9th first out of the gate, weather permitting.