by Matz ~ March 28th, 2013. Filed under:
Matz on Sports
.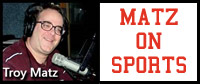 The weather is slowly turning more spring-like in our area but high school spring sports coaches and players remain in stand-by mode as field conditions remain a  long way from playable. Baraboo's baseball team has their game postponed today with Onalaska with the original softball opener for today with Waunakee was moved awhile back to April 8th.
 Reedsburg baseball at Sparta today is called off as is softball at Portage with a make-up date of April 8 and Reedsburg girls soccer vs Richland Center today is postponed to April 26th.
Sauk-Prairie softball for today with Mount Horeb is postponed to April 5th and the Sauk girls soccer match with Wisconsin Heights has been postponed from today to May 16th.
Portage baseball is postponed today at Mc Farland with today's scheduled girls soccer match for Poynette-Portage vs Waupun moved to April 19th.
Wisconsin Dells baseball was slated to open Saturday at Pardeeville as well but Mother Nature wins out again.