by Matz ~ February 22nd, 2013. Filed under:
Matz on Sports
.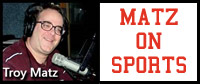 Badger North-Baraboo 73 DeForest 68, Baraboo wins the outright Badger North title with the win and it's their second league title in three years. Baraboo was up nine at the half 33-24 with five first half three-point goals and Baraboo upped the lead to 12 on two different occasions but De Forest kept clawing back and had the defecit down to two twice in the final three minutes and had three posessions with a chance to tie down the stretch but Baraboo was excellent down the stretch from the foul line, making 26 of 34 for the game. Emily Brinker and Sam Terry, the mainstays of a strong Senior class, each had big games on Senior Night wth Brinker scoring 25 and Sam Terry 22 while Kelsey Digmann added ten as Baraboo completes the conference season11-1 and theyare now 19-3 for the season overall. Sophomore Kayla Goth had 26 points for De Forest who ends up 7-5 for the conference season. Baraboo is the three seed in the half-sectional bracket in WIAA Tournament play which begins next week and will likely face De Forest again after getting a bye from Tuesday's round as De Forest will be heavily favored to beat Mc Farland and then would advance to play at Baraboo Friday March 1st. You can watch the TV replay of this conference title clincher and some of the post-game festivities as well Saturday morning at 8 AM on My Family TV/43 with Scott Pionke, Kristi Feld and Dale Loomis!
Reedsburg 32 Mount Horeb 28-Mount Horeb had the lead in the second half but an 11-0 Reedsburg run put them back on top and they hang on to finish 8-4 for the conference and they're 16-6 overall with Mount Horeb finishing 4-8 in the league. Katie Ratajczyk scored ten points as did Beth Maenpaa for the Beavers.
Waunakee 87 Portage 54-Waunakee ends the season second in Badger North at 10-2 with Portage finishing 1-11 in conference and 4-18 for the regular season. Waunakee scored 19 points or more in each quarter with Addison Hemming scoring 14 for Portage.
Non-Conference-Sauk-Prairie 45 Fort Atkinson 43 OT, Georgia Breunig scores 22 points for the Sauk girls who break an 11-game losing skid and end the regular season at 7-15 overall. Sauk hosts Portage in their WIAA Tournament opener Tuesday.
South-Central Conference-Adams-Friendship 38 Wisconsin Dells 25, Adams pulls away after a tight first half to claim their second straight outright league title at 9-1 with Dells finishing 5-5 for the conference season. Hunter Hickey scored ten points and Karissa Mace nine for the Dells girls and Jasmine Zant scored 13 for Adams.
Mauston 41 Wautoma 28
Nekoosa 52 Westfield 51-Nekoosa finishes 6-4 in conference and Westfield 7-3
Scenic Bluffs Conference-Hillsboro 49 Necedah 25, Hillsboro's win combined with Brookwood's win over Royall means Hillsboro, Brookwood, Royall and Bangor all share the conference title at 10-4.
Brookwood 47 Royall 29
Bangor 48 Wonewoc-Cener 37