by Matz ~ February 22nd, 2013. Filed under:
Matz on Sports
.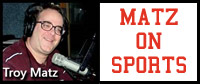 Division Two-Reedsburg at Mount Horeb, Reedsburg is 13-10 overall after a 49-39 post-season win over Baraboo Tuesday and Reedsburg stopped a two-game losing skid with that victory. Mount Horeb is 16-6 overall and they tied for second in the Badger North standings with De Forest behind Waunakee and they got a bye Tuesday as the three seed in the half-Sectional bracket hosting the six seed Reedsburg tonight. Mount Horeb won a 47-45 decision at RAHS in early December with the Beavers winning 50-44 at Mount Horeb at the end of January in one of their signature wins of the season. 7 PM in Mount Horeb and the winner gets two seed Monroe or seven seed Portage tomorrow night.
Portage at Monroe-Portage notched their tenth win of the season Tuesday, improving to 10-13 overall with a 63-55 win over Edgewood behind 21 points from Ian Taylor who paced four double figure scorers in the win with Daniel Beck the leading scorer at about 14 points per game. Monroe is 15-7 overall but lost three games late in the Badger South season without injured leading scorer Joe Latimer and the Cheesemakers have not been the same team, falling out of the top spot in Badger South down the stretch.  Four seed De Forest hosts five seed Monona Grove in this Regional tonight and that winner faces top seed Waunakee or eight seed Mc Farland Saturday with those two squaring off in Waunakee tonight.
Division Three-Platteville at Wisconsin Dells, Wisconsin Dells is the top seed in the half-Sectional bracket, entering the post-season at 21-1 overall and ranked third in the D-3 State rankings. The Chiefs won all ten games in the SCC for the second year in a row and Coach Brad Rohling's squad lost a close one to state ranked East Troy for their only blemish of the season and they responded with 196 points total in two wins after that against Baraboo and Wautoma. The Chiefs feature a talented Senior class that fills the top six spots in the player rotation led by all-state candidates in guard MJ Delmore and forward Shane Wimann who form as strong a 1-2 punch as there is anywhere. Platteville is the nine seed and they come to Wisconsin Dells tonight after a hot shooting display from Nick Tashner helped them win at Westby Tuesday to go 10-13 overall. Tonight's winner moves on to face four seed Dodgeville or five seed River Valley who play tonight in Dodgeville.
River Valley at Dodgeville-River Valley is 14-9 for the season after a lopsided win overAdams Tuesday and the Blackhawks look to gather some momentum now after some struggles late in the regular season. Dodgeville and River Valley shared the SWC title and they walloped Wautoma Tuesday with Nick Crowley reaching the 1000 point plateau. River Valley won by three in the first meeting with Dodgeville with the Dodgers winning by seven in the second meeting. Other games in this Regional tonight include three seed Mauston hosting the six seed Nekoosa and two seed Richland Center at home with seven seed Prairie Du Chien.
Division Five-La Farge at Hillsboro, Hillsboro looks for some payback after a three-point loss in the regular season to La Farge as a late rally fell short. La Farge is 13-9 overall after a 59-49 win over Cashton Tuesday and the Wildcats are led by talented guard Tanner Heisel at around 15 points per game. Hillsboro is 10-13 overall after outlasting Wonewoc-Center 45-30 Tuesday with Avery Ruckheim scoring 15 points. Two seed Hillsboro hosts three seed La Farge tonight and the winner will likely play at state ranked Royall in the Regional final with 19-3 Royall hosting Kickapoo in this round. If tonight's game is played as scheduled in Hillsboro, you can watch the TV replay Saturday morning at about 9:30 AM on My Family TV/43 with Saturday afternoon or Saturday evening the make-up time in Hillsboro should tonight's game be postponed.