by Matz ~ February 18th, 2013. Filed under:
Matz on Sports
.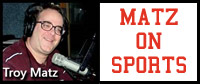 Non-Conference-Oregon at Sauk-Prairie, The Sauk girls come in at 6-14 overall and they have lost 11 games in a row after a 45-38 setback at home Saturday against Reedsburg where Sauk hung around but could not get over the hump despite 13 points from Georgia Breunig, 11 from Avery Bannan and ten from Carly Marx. Beth Maenpaa and Tiernee Schronk had 12 each for the Beavers who improve to 15-6 overall and 7-4 in the conference with Sauk going 1-11 for the conference season. The Sauk girls face an Oregon squad that is 10-10 0verall after a win over Fort Thursday. Sauk also plays host to Fort Atkinson Thursday.
Iowa-Grant at River Valley-The host  Blackhawks have won just 2 of 13 games since the new year began and they are 5-15 overall after a 53-48 loss to Richland Center in the SWC Thursday. R-V also goes to Lancaster Thursday night.
South-Central Conference-Wisconsin Dells at Adams-Friendship. This is the first meeting of the year between these squads with an earlier game postponed with a scheduled make-up date of Thursday. Dells is 10-10 overall after a 45-39 win over Nekoosa last week with Marissa Fernandez and Hunter Hickey combining for 27 points in the win which is the third straight in the conference for the 5-3 Lady Chiefs. Adams leads the conference at 7-1 and these two teams also square off in a make-up in the Dells Thursday and the Dells girls will finish third in the league if they can win at least one of the two Adams games.
Scenic Bluffs Conference-Hillsboro at Brookwood, Hillsboro at 8-4 trails Brookwood and Royall by a game in the battle for the conference title and both Hillsboro and Brookwood are 15-5 overall. Hillsboro won the first meeting 47-33.
New Lisbon at Royall-Royall is 9-3 in the conference and New Lisbon has slid to a mark of 6-6 but the Rockets beat Royall 25-23 in their first meeting.
Necedah at Wonewoc-Center
Bangor at Cashton-Bangor is still in the title mix at 8-4 in the conference