by Matz ~ February 16th, 2013. Filed under:
Matz on Sports
.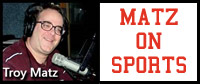 Baraboo, Reedsburg, Sauk-Prairie and Portage wrestlers will compete at Middleton High School today in a WIAA D-1 Sectional Tournament , looking for a trip to next week's State Tourney at the Kohl Center in Madison. Baraboo will have eight wrestlers competing today including Regional champ Kolt Bode with a record of 31-10 at 145 and 33-6 Trevor Hanson at 106 pounds. Willie Pierce at 138, Riley Fichter at 170 and David Gale at 195 all wrestle today with 20 wins or more for the Thunderbirds with Andrew Thompson, Hudson Greenwood and Jeremy Bowers all in action. Reedsburg has ten wrestlers on the mat today at Middleton with 23-6 Nick Sieber a Regional champion at 138 along with 26-9 Aaron Lopp at 182. Wayatt Rabuck, Nate Erbs, Austin Bretsch, Ty Brandt, Dylan Kuester and Nick Noye are others today with 20 or more wins with Erbs, Brandt and Noye at 30 or more with Logan Lewerenz and Dylan Le Moine also competing. Sauk-Prairie won the team title at the Waunakee Regional last week and also earned their first berth in the State Team Tournament Tuesday and the Eagles will have a wrestler in each weight class today at Middleton. 36-7 Eddie Smith, 37-3 Austin Fjoser and 36-4 Caleb Sisbach are Regional champs with Austin Powell and Brandon Sprecher also at 30 wins and also on the mat for Sauk-Prairie will be Alec Bader, Kyle Herbrand, Luke Vils, Dylan Rasque, Brandon Sprecher, Chris Chrisler, Jared Schaaf, Gage Neumeier, Gavin Halverson and Zach Niemi. Portage will be represented by Hunter Hayes, Jacob Poches and Spencer Shier as Regional champs along with Josh Parks, David Rusher and Josh Kowalk.
Wisconsin Dells qualified five wrestlers from the Dells Regional to today's Richland Center Sectional but Regional champ John Mor suffered a broken ankle at the end of his title match last Saturday and is out for the tournament, ending 31-7 for the season. Jake Shirley competes today as a Regional champ at 152 with a 23-14 record with 29-12 Max Obois, 24-14 Willie Vandenlangenberg and Luis Garcia all representing Dells today. River Valley's Joe Crook, Seth Liegel, Garrett Riek and Zach Koch all wrestle today as Regional champs with Alec Bass also in action with Liegel 40-0, Crook 34-8, Riek 31-10, Koch 33-10 and Bass at 25-15.
Weston-Ithaca has eight wrestlers at the D-3 Sectional in Mineral Point with Jordan Rupp, Stetson Clary, Cody Willis, Mason Mc Cauley, Wyatt Seep and Atticus Sharp as Regional champs with Hunter Dischler and Morgan Seep also in action. Max Sebranek, Jake Stockwell and Spencer Treu of Hillsboro and Christian Moore, Dalton Lunde, Trenton Pasch and Landon Robertson all are on the mat today for Royall High School.
The top two in each weight class move on at Middleton with the top three advancing at Richland Center and at Mineral Point and all three Sectional Tournaments begin at 10 AM. Join Mike Mc Gann and Eric Hanspn for live reports and matches throughout the day from the Middleton Sectional on 99.7 Fm and AM 740-WRPQ Radio!