by Matz ~ February 15th, 2013. Filed under:
Matz on Sports
.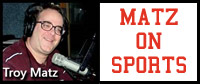 WIAA State Boys Swim Meet-Baraboo will have six swimmers in action tonight at the UW Natitorium in Madison as the D-2 portion of the State Boys Swim Meet takes place. Sophomore Brian Cormican turned in personal best times last week in the Sectional to qualify for State in the 100 Freestyle and 100 backstroke after qualifying in the 50 Free last year and Junior Tanner Craker swam through a shoulder injury last week to qualify in the 50 Free once again. Baraboo also has two relays that will swim tonight with Matt Garcia and Dan O' Rourke joining Craker and Cormican in the 200 Medley Relay and the 200 Free Relay group at State consists of O' Rourke, Craker, Freshman Sean Cormican and Peter Hancovsky. The Sauk-Prairie-Wisconsin Heights Coop has eight swimmers competing tonight but four of them will swim in two individual events each in addition to the relays. Senior Andrew Meng, Juniors Bryan Frosch and Owen Wills and Sophomore Spencer Shuman all are qualifiers in two individual events with James Cefalu also competing in the 500 Free. The 200 medley relay team at State consists of Meng, Pablo Morales, Frosch and Brady Mautz and the 400 Free relay team shows Frosch, Wills, Dalton Sandrich and Meng. The Sauk-Prairie-Wisconsin Heights squad was ranked sixth in the state's latest D-2 state rankings. 6:30 PM is the start time for tonight's competition at UW-Madison.
Gymnastics: Baraboo, Sauk-Prairie, Reedsburg, Mount Horeb, Milton and Waunakee at the Badger Conference Meet in Waunakee tonight at 6 PM.
Boys Basketball: Badger North-Mount Horeb at Baraboo, Baraboo is 1-20 for the season and winless for the conference season as they close out the regular season tonight on Senior Night. Baraboo got off to a rough start and never recovered in a 59-43 loss to De Forest Tuesday although Junior Ty Schlichtmann had a 23-point, ten rebound performance. The Vikings share second place in Badger North at 7-4 and they're 15-6 overall with a three-game win streak includng a second win over MG earlier this week. The balanced Vikings have five players scoring between six and eleven points per game. Mount Horeb won at home against the Thunderbirds 54-43 in the first meeting. This game begins around 7:30 PM and you can hear it live on 99.7 Fm and AM 740-WRPQ with Dave Helwig and Terry Kieck and the TV replay comes your way at 8 AM tomorrow on My Family TV/43.
Reedsburg at Portage-Reedsburg needs a win to finish with a winning record in conference play with the Beavers 6-5 and 12-9 overall after Tuesday's loss to Waunakee in a game where Reesburg led after three quarters before suffering a nine-point loss. Sam Peterson tallied 16 points for the Beavers in the loss. Portage is 4-7 in league play and 8-13 overall after an OT loss to Sauk Tuesday. Daniel Beck is Portage's top scorer but others have led the way of late. The Beavers lost a tight one at home to Portage earlier this season.
Waunakee at De Forest-Waunakee goes for a perfect conference record for the second time in three years while 7-4 De Forest has won six of the last seven in league play. Waunakee won 66-50 in the first meeting.
Non-Conference-Sauk-Prairie at Oregon, Sauk won a wild one over Portage 75-71 Tuesday to boost their overall record above .500 at 11-10 overall and Sauk had four double figure scorers in that game. Oregon, a middle of the pack team in Badger South, is also 11-10 overall for the season.
South-Central Conference-Wisconsin Dells looks for back-to-back 10-0 conference records in SCC boys basketball and they'll acheive if they win at home against Wautoma. The third ranked Dells Chiefs are 20-1 overall and they have already wrapped up the outright league title. The Chiefs are looking to rebound after a 66-62 loss to East Troy Saturday in a matchup of state ranked teams. Dells crushed Wautoma 80-42 in the first meeting with Wautoma owning one league victory.
Adams at 3-6 plays at 5-4 Nekoosa
7-2 Mauston at 2-7 Westfield
Scenic Bluffs Conference-Royall at Brookwood, Royall earns the outright title if they win with the Panthers now 12-1 in conference with Brookwood 6-7.
Bangor(11-2) at Wonewoc-Center(2-11)
New Lisbon(1-12) at Cashton(3-10)
SWC-Richland Center at River Valley, R-C leads the league at 7-2 and will clinch the outright title with a win but River Valley and also Dodgeville are both 6-3 and could gain a share of the championship. Richland Center won 62-58 in the first head-to-head meeting.