by Matz ~ February 13th, 2013. Filed under:
Matz on Sports
.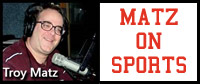 Girls Basketball: Non-Conference-Baraboo 73 Tomah 23, Baraboo led 22-4 after one quarter and were up 41-14 at the half against a four-win Tomah squad nd Baraboo also enjoyed a big rebounding edge. Sam Terry scored 22 points and grabbed ten rebounds while Emily Brinker had 21 points, including four three-point goals, and Anna Schmelzer and Carli Zimmerman had ten points each as Baraboo improves to 18-2 overall. The 50-point margin is the biggest this season for the Thunderbirds but the competition gets tougher Thursday night as 16-4 Madison Edgewood comes to Baraboo for a key non-conference game with both teams in the same half-sectional bracket for WIAA Tournament play.
Reedsburg 38 Wisconsin Dells 29-Reedsburg extends their win sreak to eight in a row after rallying from a 13-7 defecit after one quarter. Beth Maenpaa had ten points and Tiernee Schronk nine for the 14-5 Beavers with the 9-10 Dells girls scoring only 16 points over the final three periods with Hunter Hickey scoring 12 and Jaden Ward ten for Wisconsin Dells.
Hillsboro 48 Kickapoo 24-Hillsboro is now 14-5 overall with a home game vs Wonewoc-Center on Thursday. Wonewoc-Center won a make-up game 36-27 over New Lisbon Tuesday.
Boys Basketball: Badger North-De Forest 59 Baraboo 43, Ty Schlichtman scores a season high 23 points with ten rebounds for Baraboo but it was not enough with the T-Birds now 1-20 overall and 0-11 in Badger North play. Josiah Owen scores 13 for a De Forest team that is now 7-4 in the conference and 12-9 overall. De Forest led 16-4 at the quarter and 31-15 at the half. Baraboo hosts Mount Horeb Friday in the regular season finale.
Sauk-Prairie 75 Portage 71 OT-Sauk avenges an earlier loss to the Warriors and they scored the first seven points of overtime in the win with Jake Fiene scoring 20 points and Simon Breunig 18 fo the Eagles who finish 4-8 for the conference season and they are now 11-10 overall. Portage is now 4-7 in the conference and they are 8-13 overall with Daniel Beck scoring 23 points in the loss.
Waunakee 63 Reedsburg 54-Reedsburg led the conference champs after three quarters but Waunakee outscores the Beavers 20-10 in the final quarter to get the win, improving to 11-0 in league play with Reedsburg at 6-5 and 12-9 overall. Sam Peterson led the Beavers with 16 points with Capreace Salinas and Ty Horkan adding 11 each and Will Decorah scored 27 for Waunakee. Reesburg goes to Portage Friday.
Scenic Bluffs Conference-Brookwood 51 Hillsboro 50, Hillsboro ends the regular season 7-7 in conference and 9-13 overall.
Royall 85 New Lisbon 38-Royall has earned a share of the league title at 12-1 in conference
Necedah 71 Wonewoc-Center 54
Bangor 67 Cashton 41
Non-Conference-Riverdale 60 Weston 32, Devin Boland scores 11 for winless Weston
WIAA Team Sectional Wrestling: Sauk-Prairie earns their first trip ever to the WIAA State Team Tournament with a win at home over Holmen 37-23 in a D-1 Team Sectional dual meet last night. Sauk winners included Eddie Smith, Kyle Herbrand, Aaron Hankins, Austin Fjoser, Austin Powell, Brandon Sprecher, Gage Neumeier and Gavin Halverson.
Mount Horeb-Barneveld loses their D-1 Team Sectional match to Badger 29-23.
Mauston advances to the State Team Tournament for the first time in D-2 after a huge 31-30 win over Lodi and then a 54-17 win over Dodgeville in the D-2 Team Sectional at Lodi last night.
Weston-Ithaca wins 39-36 over Cashton but then loses to Lancaster 41-29 in the D-3 Team Sectional at Brookwood High School. Wyatt Seep, Atticus Sharp, Nick Bennett and Cody Willis all won both matches on the night for Weston-Ithaca.
WIAA Boys Hockey: Reedsburg-Wisconsin Dells 10 Sparta-Mauston 0-Cortland Maxfield explodes for five goals and Jesse Greenwood adds three more for RWD with Andrew Schulenburg and Ashton Mace also scoring goals with Tyler Arneson recording 13 saves in net for the shutout. RWD IS 13-12 and moves on to play at West Salem Thursday night in the Sectional Quarter-Finals.