by Matz ~ February 11th, 2013. Filed under:
Matz on Sports
.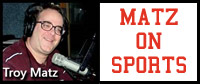 D-1 Baraboo Regional-Baraboo advances eight wrestlers including 145-pound Regional champion Kolt Bode while alaos moving on are Trevor Hanson, Willie Pierce, Andrew Thompson, Riley Fichter, David Gale, Hudson Greenwood and Jeremy Bowers. Reedsburg was second in team scoring behind Holmen and they have ten wrestlers moving on led by Regional champions Nick Sieber and Aaron Lopp with Wyatt Rabuck, Logan Lewerenz, Nate Erbs, Austin Bretsch, Ty Brandt, Dylan Kuester, Dylan LeMoine and Nick Noye.
D-1 Waunakee Regional-Sauk-Prairie wins the team title and will face Holmen at Sauk Tuesday at 7 PM in the WIAA Team Sectional with the winner in the dual meet advancing to the State Team Tournament in March. The Eagles advanced all 14 of their wrestlers to the Middleton Sectional including Regional champions Austin Fjoser, Eddie Smith and Caleb Sisbach with Alec Badfer, Kyle Herbrand, Luke Vils, Austin Powell, Dylan Rasque, Brandon Sprecher, Chris Chrisler, Jared Schaaf, Gage Neumeier, Gavin Halverson and Zach Niemi all going to Middelton as well. Portage has six wrestlers moving on from Waunakee including champions Hunter Hayes, Jacob Poches and Spencer Shier.
Mount Horeb-Barneveld also won a D-1 team title in the Regional and will be in the team Sectional Tuesday at Milton against Lake Geneva Badger
D-2 Wisconsin Dells Regional-Dells has five wrestlers advancing to the Richland Center Sectional led by Regional champions John Mor and Jake Shirley with Max Obois Willie Vandenlangenberg and Lusi Garcia also moving on.
D-2 D0dgeville Regional-River Valley crowns Joe Crook, Seth Liegel, Garrett Riek and Zach Koch as Regional champs with Alec Bass also advancing to Sectional.
Mauston wins a team title at the D-2 Regional at Adams and will face Lodi in the Team Sectional at Lodi Tuesday.
D-3 Boscobel Regional-Weston-Ithaca wins the team title and will face Cashton in the D-3 Team Sectional Tuesday at Brookwood High School. Weston-Ithaca got titles from Jordan Rupp, Stetson Clary, Cody Willis, Mason Mc Cauley, Wyatt Seep and Atticus Sharp
D-3 Necedah Regional-area Regional champions included Max Sebranek and Jake Stockwell of Hillsboro and Christian Moore and Dalton Lunde of Royall.