by Matz ~ February 9th, 2013. Filed under:
Matz on Sports
.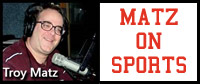 D-1 Baraboo Regional 10:30 AM-8 teams including Baraboo, Reedsburg, the Osseo coop and five La Crosse area schools. The top four in each weight class move on to the Middleton Sectional next week. Trevor Hanson won a conference title for Baraboo last week and is 31-5 overall with Willie Pierce, Kolt Bode, Riley Fichter and David Gale also with 20 plus wins while Andre Mayllen and Hudson Greenwood will get there wth one match win today. Reedsburg's Nate Erbs won a conference title last week and he is 31-7 with Wyatt Rabuck, Austin Bretsch, Nick Sieber, Macklin Bautch, Ty Brandt, Aaron Lopp and Nick Noye all with 20 wins or more as well.
D-1 Waunakee Regional 9 AM-7 teams including Sauk-Prairie with Sauk and Middleton the likely favorites to win the team title. Sauk won the Badger Conference Tournament team title last week with 34-3 Austin Fjoser, 31-7 Brandon Sprecher and 33-4 Caleb Sisbach all winning individual titles with Eddie Smith and Austin Powell also at 30 wins while Chris Chrisler, Jared Schaaf and Gavin Halverson all have 20 wins. The top four in each weight class move on to Middleton next week.
D-2 Wisconsin Dells Regional 10:30 AM-7 teams including Wisconsin Dells and teams from the Capitol Conference and the top two in each weight class move on to Sectional action next weekend. Dells placed 3rd in the SCC Meet last weekend with Andrew Mc Clyman at 24-11 winning a title individually with Bryan Ugalde, Max Obois, Willie Vandenlangenberg, John Mor, Jake Shirley and Zach Cicero also at the 20-win mark.
D-2 Dodgeville Regional 10 AM-7 teams including River Valley with Seth Liegel and Joe Crook winning conference titles last week for the Blackhawks with Liegel gunning for a second straight unbeaten season. Top two in each weight clkass moves onto next weekend.
D-3 Boscobel Regional 11 AM-7 teams including Weston-Ithaca who placed second behind Cashton at the Scenic-Ridge and Six Rivers Tournament last week with Hunter Dischler, Stetson Clary, Wyatt Seep and Atticus Sharp winning conference titles. Only the top two in each weight class today move on to the Sectional next week.
D-3 Necedah Regional 10:15 AM-7 teams including Hillsboro and Royall. Christian Moore of Royall was a repeat winner at last week's Scenic-Ridge and Six Rivers Conference Meet. The top two in each weight class today move onto next week and WIAA Sectional competition.