by Matz ~ February 4th, 2013. Filed under:
Matz on Sports
.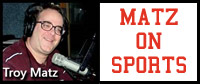 Wrestling: Sauk-Prairie wins the team title at the Badger Conference Wrestling Tournament with Milton second and Fort Atkinson third while Baraboo placed 6th, Reedsburg 8th and Portage 10th. The final overall Badger North standings show Sauk and Mount Horeb-Barneveld sharing first place, Baraboo and Reedsburg share third place with De Forest, Portage and Waunakee the remaining order of finish. Baraboo's Trevor Hanson won a conference title at 106 pounds with a 7-2 win over Preston Ernst of Waunakee in the final and he reaches the 30-win mark for the season as well. David Gale at 195 and Hudson Greenwood at 220 both reached the finals and came away with second place finishes while Andre Mayllen, Kolt Bode, Zach Raymond and Riley Fichter all had fourth place efforts. Sauk-Prairie gets a title from Austin Fjoser at 132, Brandon Sprecher at 145 and Caleb Sisbach at 195 and Austin Powell, Eddie Smith and Jared Schaaf also had top three efforts for the Eagles. Nate Erbs won the conference crown at 126 for the Reedsburg Beavers and passes the 30-win mark for the season with Nick Sieber and Nick Noye the only others in the top four for Reedsburg. Hunter Hayes and Spencer Shier had 2nd's and Jacob Poches a third place finish for Portage.
South-Central Conference Tourney-Mauston couples their dual meet title with the tournament team title Saturday, again edging Nekoosa with Dells 3rd followed by Adams, Westfield and Wautoma. Mauston, Nekoosa and Dells finish 1-2-3 overall as well with Westfield and Adams sharing fourth place. Andrew Mc Clyman wins a conference title at 145 for the Dells wrestlers whilr Max Obois, John Mor, Willie Vandenlangenberg and Zach Cicero had seconds for the Chiefs. Mauston's champs were John Maki, Spencer Davies, Colin Dolata and Eric Le Beau.
River Valley places seventh in the SWC-SWAL Clash at Richland Center with Lancaster the team champ. Joe Crook and Seth Liegel win titles for River Valley and that's the fourth career conference title for Liegel. Garrett Rieck and Alec Bass also had top three's for River Valley.
Boys Basketball: Badger North-Sauk-Prairie 52 Baraboo 35-Sauk pulls away in the second half with a 26-12 advantage after a tightly contested first half. Ty Schlichtmann and Garrett Getgen each tally seven points to lead Baraboo with Jake Fiene scoring 15 and Simon Breunig 13 for the Eagles. Baraboo is now 0-9 in the conference and 1-16 overall with a home game against Auburndale tomorrow. Sauk improves to 3-7 in the conference and 9-10 overall with a home game against Waunakee Friday.
De Forest 59 Portage 47-A 24-point final period propels De Forest to victory, their second over Portage this year. Nobody reached double figures for Portage , now 4-4 in the league and 8-10 overall and Josiah Owen had 20 points for 6-4 DeForest
Waunakee 46 Mount Horeb 42-Waunakee goes on a 13-0 run in the second half to take contrl and they hang on down the stretch tp go 8-0 in conference with Mt Horeb falling to 6-4. Waunakee has clinched at least a share of the league title with Ryan Kruser scoring 17 and Will Decorah 16.Isiah Lesure had 18 for the Vikings.
Non-Conference-Reedsburg 55 Fort Atkinson 36-Reedsburg outscores Fort in each quarter as they improve to 11-7 with their third straight win. Capreace Salinas scores 17 and Sam Peterson 16 for Reedsburg Baraboo coming in Friday.
Monday-Necedah at Hillsboro in the Scenic Bluffs, Kickapoo at Royall in non-conference action
Girls Basketball Monday: New Lisbon at Weston and River Valley at Fennimore
Boys Hockey: Wisconsin Rapids 3 Reedsburg-Wisconsin Dells 1-Rapis scores three unaswered goals in the third period for the win as RWD falls to a record of 11-10 officially. Ashton Mace scores the lone goal for RWD, now 2-4 over the last six games.
Dells Ducks Junior Hockey wins three on the weekend with wins of 5-1, 7-2 and 10-2 over the Minnesota Owls at the Poppy Waterman Arena