by Matz ~ February 1st, 2013. Filed under:
Matz on Sports
.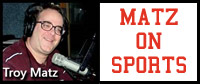 Boys Basketball: Badger North-Portage 49 Baraboo 36, Baraboo was down just four at the half butr Portage pulled away down the stretch for their second win over Baraboo this season. Matt Meyer scored a career high 14 points and Baraboo had a season low nine turnovers but they fall to 0-8 in the conference and 1-15 overall. Matt Bare, Stian Anderson and Jordan Walker all scored in double figures for a Portage team that is 4-3 in conference and 8-8 overall. Baraboo plays at Sauk-Prairie tomorrow in what is now a 2:30 PM game on 99.7 FM with Portage hosting De Forest tomorrow at 7:30 PM
Reedsburg 50 Mount Horeb 44-Beavers post perhaps their signature win of the season at Mount Horeb against the second place Vikings. Capreace Salinas scores 24 and Reedsburg makes 16-18 free throws to go 5-4 in the conference and 10-7 overall. The Vikings have now lost two of their last three league games with Shane Collins scoring 13 for Mount Horeb, now 6-3 in conference play. Reedsburg hosts Fort Atkinson tomorrow afternoon.
De Forest 64 Sauk-Prairie 46-The Norskies outscore Sauk in each quarter and stay hot, going to 5-4 in the conference after a 1-3 start. Sauk falls to 2-7 in league play and 9-9 overall with Bailey Breunig, Simon Breunig and Jake Fiene all reaching double figures in the loss.
South-Central Conference-Wisconsin Dells 57 Mauston 35-Dells wins the SCC title for the 6th year in a row and they are again the outright champions after last night's win puts them at 9-0 in the SCC and 19-0 overall. Dells won each period and gradually pulled away with Mauston 7-2 in the league and 14-5 overall. Shane Wimann led a balanced scoring attack with 15 for the Dells.
Wautoma at Nekoosa tonight
Girls Basketball: Scenic Bluffs Conference-Cashton 39 Hillsboro 30, Hillsboro loses their second straight conference game, falling to 6-4 in league play.
Wonewoc-Center 34 New Lisbon 31-Wonewoc wins it's first league game in knocking off title contender New Lisbon.
Bangor 34 Royall 24-Bangor, Royall and Brookwood all now share the league lead at 7-3.
SWC-Prairie Du Chien 48 River Valley 37 as River Valley falls to 0-7 in league play
Boys Hockey:  Baraboo-Portage 5 Greendale 4-Joe Beale scores two goals for the Baraboo squad who improves to 11-6-2 overall. Adam Stanton, Griffin Nicksic and Brett Mc Cutchin also scored. goals for the Baraboo coop with Stanton scoring the game-winner with 40 seconds left in regulation play.
Reedsburg-Wisconsin Dells 3 Tomah 1-Jordan Bill and Matt Olson scored first period goals for RWD and Zach Clisch scored later with Tyler Arneson making 33 stops in net as RWD reaches the 11-win mark.
Girls Hockey: Badger Thunder loses 6-3 to the Fond Du Lac coop at the Sauk rink-Carley Bill, Kristen South and Rachel Pawlak scored goals for the Thunder who fall to 6-13-2 overall with the loss, their second this week, while Fondy wins their seventh game.
Wrestling: South-Central Conference-Wisconsin Dells 33 Westfield 30, Dells finishes 3-2 and third place in the conference dual season, getting wins from Willie Vandenlangenberg, John Mor, Andrew Mc Clyman and Zach Cicero with three forfeit wins.
Gymnastics: Reedsburg-Weston 127.50 Waunakee-De Forest 122.20-Reedsburg's score a season best with Alisa Marten and Tommie Brenner winning titles and Anna Penrose the all-around for the Beavers.