by Matz ~ January 29th, 2013. Filed under:
Matz on Sports
.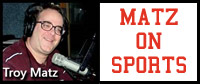 Girls Basketball: Badger North-Sauk-Prairie at Baraboo, Baraboo looks to take another step closer towards an outright league title tonight as they come in at 7-0 in the league, two games or more better than everyone else in the conference, and 14-0 overall with the latest conquest coming last week at De Forest by a final score of 50-38 with Sam Terry scoring nearly half of those points for the Thunderbirds. Baraboo has still won every game but two by 10 points or more and they won handily over Sauk 61-37 in their first meeting. The Eagles are 1-5 in league play with four straight Badger North losses and the Eagles are in the midst of a five-game overall losing skid at 6-8 overall. The Eagles have struggled in putting a full game together of late and they'll need to do so tonight to have a shot against the unbeaten Thunderbirds. Join Scott Pionke and Kristi Feld for pre-game coverage around 7:20 PM with game time at about 7:30 PM on 99.7 Fm and AM 740-WRPQ Radio!
Reedsburg at Portage-Reedsburg can climb back above the .500 mark in conference play tonight, coming in at 3-3 in the league and 9-5 overall. Reedsburg clobbered Mount Horeb 47-22 Thursday in their most recent league game and then on Saturday, Reedsburg edged sixth ranked Onalaska 31-30 in double OT, giving the Hilltoppers just their second loss of the season and their first since the season opener. Reedsburg has held eight opponents under 40 points in 14 games. Portage is winless in the conference at 0-6 and the Warriors are 3-13 overall and they've dropped five straight. Reedsburg battled their way to a 42-35 win at home against Portage in the first meeting.
Mount Horeb at Waunakee-Mount Horeb has slipped to 3-4 in the league with Waunakee at 5-2 with Waunakee winning by over 30 points in the first meeting.
South-Central Conference-Adams-Friendship at Wisconsin Dells postponed 
Maust0n at Wautoma
Nekoosa at Westfield
Ridge and Valley Conference-La Farge at Weston, La Farge won 37-33 in the first meeting with La Farge 3-5 in the conference and Weston 4-5.
Boys Basketball: Non-Conference-River Valley at Reedsburg, River Valley is 11-5 and they broke a three-game losing skid last night in a win over Belleville. Reedsburg lost Saturday 67-62 to Fort Atkinson despite 23 points from Capreace Salinas with the Beavers now 8-7 overall with just a 2-4 record since the new year began with three of those by five points or less.
Scenic Bluffs Conference-Hillsboro at Cashton-Hillsboro is 5-4 in the league after being trounced by Royall last week but they got by Cashton 45-41 in the first meeting with Cashton 3-6 in the Bluffs.
Royall at Bangor-Royall is 9-0 in league play and two games up on Bangor coming in. Royall has won every league game by 24 points or more.
New Lisbon at Wonewoc-Center-Both teams are 1-8 in league play and New Lisbon won the first meeting.
Necedah at Brookwood
Boys Hockey: Badger North-RWD at Sauk-Prairie Coop at 7 PM, Reedsburg-Wisconsin Dells won their first Badger North game last week 5-4 over the Baraboo group and RWD still has a chance to make it a four-way tie in Badger North at the end of the season if they can win tonight  over Waunakee. RWD Is 10-7-1 overall after a 2-1 loss vs the Aquinas coop on Saturday. The Sauk group is 10-9-1 overall after a 9-4 loss against the Kettle Moraine coop Saturday but they are 3-2 in league play and will be league champs if they can win tonight. Sauk won 3-2 over RWD in the first head-to-head matchup this season and they've got a trip to Brookfield later this week.
Girls Hockey: Badger Thunder at Stoughton for a 7 PM Badger Conference game-Badger Thunder won three games at Beaver Dam over the weekend, outscoring the opposition 25-2 as they raise their record from 3-11-2 to 6-11-2 overall. The Thunder is 1-6-1 in league play with one of the six loses vs the Stoughton Coop 2-1 in OT. Stoughton is 5-2 in the Badger Conference and still in contention for the league title behind 7-1 Metro Lynx and 6-1 Sun Prairie. Badger Thunder also has a league game at Viroqua Friday.