by Matz ~ January 24th, 2013. Filed under:
Matz on Sports
.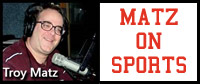 The Wisconsin Cross Country Coaches Association held a recogniton event honoring All-State teams and runners from the 2012 high school season in Milwaukee recently and Baraboo athletes were among those cited for their efforts. Senior Mc Kaela Christenson had an historic season for the Baraboo girls program by winning every event she ran in the high school season including the D-1 championship race at Wisconsin Rapids and she had the fastest time of any runner at the State meet as well. As a result of her outstanding accomplishments, Christenson has been named Wisconsin Female Runner Of The Year for 2012.
The Baraboo boys advanced their full team to State once again this past season and the team was honored with academic All-State honors. easily meeting the criteria of a team wide GPA of 3.4 or better in the fall. Baraboo's team GPA was actually tenth best among the State teams that were given this particular recognition. The primary team members of the Baraboo Thunderbird boys cross country squad were Zack Henry, Sam Trotter, Marek Sokolowski, Tyler Fiebig, Joey Rausch, Ben Bildsten and Connor Drexler.