by Matz ~ January 21st, 2013. Filed under:
Matz on Sports
.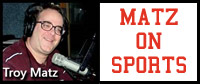 The annual Badger Challenge boys basketball event again takes place this weekend at Monroe High School with teams from Badger North squaring off against those from Badger South with the matchups taking place between teams with similar positions in the standings. On Friday night, Baraboo will take on Milton at 6 PM and the 7:45 PM game has De Forest vs Oregon.
The Saturday schedule shows Sauk-Prairie vs Madison Edgewood at Noon, Reedsburg vs Fort Atkinson at 1:45 PM, Portage vs Stoughton at 3:30 PM, Mt Horeb vs Monona Grove at 5:15 and the final game has conference leaders Waunakee and Monroe squaring off at 7:00 PM.
The North won last year's challenge and look to make it two in a row.