by Matz ~ January 18th, 2013. Filed under:
Matz on Sports
.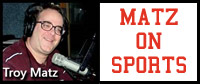 Baraboo and Hillsboro high school basketball come you way this weekend on Saturday morning starting at 8 AM on My Family TV/43! Baraboo met Reedsburg in boys basketball action in a make-up game on Tuesday of this week and you can watch that TV replay at 8 AM with Dave Helwig and Terry Kieck on the call. The Hillsboro girls faced Necedah Thursday night and you can catch that action at about 9:30 AM with Troy Matz and Craig Baesmann and then join Troy and Greg Zimmerman at about 11 AM for the Hillsboro vs New Lisbon boys basketball contest from Friday night. For more information on TV playback dates and times for the Baraboo Thunderbirds and Hillsboro Tigers, go to wrpq.com, click on the WRPQ Sports tab and then click on the team's logo for more broadcast information.
99.7 FM and AM 740-WRPQ Radio will bring you a key Badger North girls basketball game Saturday night as the unbeaten and third ranked Baraboo Thunderbirds play host to second place Waunakee with pre-game coverage around 7:20 PM with Scott Pionke and Krisit Feld on the call!