by Matz ~ January 17th, 2013. Filed under:
Matz on Sports
.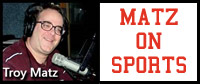 Wrestling: Badger North-Baraboo at Portage, Baraboo has a 2-2 conference record after Tuesday's loss to Sauk-Prairie. Andre Mayllen began his varsity career with the Thunderbirds just a couple of weeks ago but is at 15-2 for the season and he was one of three match winners Tuesday along with Trevor Hanson and Hudson Greenwood. Portage is 0-4 in the conference dual season with all four losses at least somewhat lopsided. Baraboo closes out the conference dual season next week with first place Mount Horeb-Barneveld but they're at Portage tonight with coverage just before 7:30 PM with Mike Mc Gann and Eric Hanson on 99.7 FM and AM 740-WRPQ Radio!
De Forest at Sauk-Prairie-Sauk is 4-1 in the conference dual season and still in contention for the Badger North title after a Tuesday win over Baraboo with the Eagles only conference loss to Mount Horeb-Barneveld by one point on criteria. De Forest is 1-3 in the conference with only a win vs Portage. Sauk fans can watch this dual live on the Sauk-Prairie Eagle Sports Network at 7:30 PM tonight.
Reedsburg at Waunakee-Reedsburg is 2-2 for the conference dual season after what is believed to be a first ever win for Reedsburg over De Forest last week 31-25 and the Beavers also won the team title at the Weston-Ithaca Tourney Saturday with Wyatt Rabuck, Nate Erbs and Aaron Lopp all winning individual titles for Reedsburg. Waunakee is 0-3 in the conference with still two duals left next week in Badger North action.
South-Central Conference-Wisconsin Dells at Wautoma, Dells is 1-1 for the conference season with a win over Adams and a loss to Mauston with the Chiefs placing 9th among 24 teams at Merrill on Saturday. Max Obois leads the Chiefs individually with 20 wins while several of his teammates also are close to the 20-win mark. Wautoma is 0-2 in the conference season entering tonight.
Westfield at Mauston-Mauston leads the SCC at 3-0 and the Golden Eagles are 8th in the Crossface Magazine D-2 state rankings.
Nekoosa at Adams-Friendship
Scenic Bluffs Conference-Hillsboro at New Lisbon
Cashton at Royall
Boys Hockey: Badger North-Sauk-Prairie Coop at Baraboo Coop at the Pierce Park Pavillion at 7:30 PM, Sauk led 2-0 in the first meeting early but the Baraboo group rallied to win 3-2 in the conference opener. The Sauk group is 9-6-1 overall after a Saturday loss 7-1 to Milwaukee Marquette but Luke Mc Elhenie still leads the state in goals scored with 30 and they are 2-1 in conference with wins over RWD and Waunakee. Barab0o-Portage is 8-4-2 after a 1-1 tie with West Salem Tuesday and they also are 2-1 in league play with a win over RWD and a loss to Waunakee. The Baraboo group is giving up less than two goals per contest for the season.
Girls Basketball: Non-Conference-Sparta at Wisconsin Dells, Dells looks to get back to the .50o mark tonight as they come in at 6-7 overall after two SCC wins over Wautoma and Nekoosa in the last two outings with Carly Pfeifer scoring 12 in the Tuesday win at Nekoosa which puts the Lady Chiefs at       2-2 in league play. Sparta comes in tonight at 3-9 overall.
SWC-Lancaster at River Valley-The River Valley girls are still winless in the SWC at 0-5 with three wins overall. Lancaster is 1-4 in the conference and will be facing River Valley for the first time.
Scenic Bluffs Conference-Necedah at Hillsboro, Hillsboro is 3-2 in league play with three straight conference wins and the Tigers are 8-3 overall. Necedah is 0-5 in league play and the Cardinals have dropped over 60 straight league games.
Royall at Brookwood-Royall leads the conference at 5-1 and Brookwood is third at 4-2.
Bangor at Wonewoc-Center
New Lisbon at Cashton
Boys Basketball: Ridge and Valley Conference-Weston at Wauzeka, Weston is winless for the season
Badger North-Mount Horeb at De Forest-The visiting Vikings are 4-1 in conference with the Norskies at 2-4.