by Matz ~ January 13th, 2013. Filed under:
Matz on Sports
.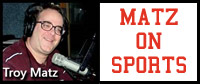 Wrestling: Baraboo places 4th at the SPASH Duals in Stevens Point with a 3-2 record on the day. Trevor Hanson was 5-0 individually for the Thunderbirds with Kolt Bode, Zach Raymond, Riley Fichter, David Gale and Hudson Greenwood all at 4-1 for the day. Team champion was Holmen.
Reedsburg 1st and Weston-Ithaca 2nd at the Weston-Ithaca Invite in Cazenovia-Reedsburg champions included Wyatt Rabuck at 113, Nate Erbs at 126 and Aaron Lopp at 182 with Austin Bretsch, Macklin Bautch, Ty Brandt, Dylan Kuester, Nick Noye and Nate Bergman also with top three finishes. Weston-Ithaca got titles from Hunter Dischler, Cody Willis, Wyatt Seep and Atticus Sharp.
Wisconsin Dells 9th among 24 schools at the Blue Jay Challenge in Merrill with Max Obois 5th at 126 pounds for the Dells Chiefs.
Boys Hockey: Milwaukee Marquette 7 Sauk-Prairie Coop 1-Sauk falls to 9-7-1 overall with the loss against the state ranked Hilltoppers.
Girls Hockey: Onalaska 8 Badger Thunder 1-Badger Thunder falls to 3-10-1 overall with Onalaska ranked second in the state.
Boys Basketball: Wisconsin Dells 61 Cedar Rapids Washington 46 at the Wisconsin-Iowa Border Battle at JAG in Wisconsin Dells-Shane Wimann scores 19 and MJ Delmore 15 for the 13-0 Chiefs who will likely maintain their number one ranking in the D-3 poll.
Tonight-Weston at New Lisbon
Girls Basketball: Badger North-Waunakee 61 De Forest 48, Sam Murray scores 19 for 4-1 Waunakee with De Forest now 3-2
Tonight-The 10-0 Baraboo Thunderbirds play a make-up game at Edgerton. Baraboo knocked off state ranked Stoughton 62-49 Thursday and Baraboo has now won nine of their ten games by 10 points or more. Baraboo is the number three ranked team in the D-2 polls and Sam Terry has scored a combined 52 points over the last two Baraboo games.
6-5 Sauk-Prairie plays at Lodi in another non-conference tilt. Sauk has lost just one non-league game and that was vs Adams-Friendship last week.
Gymnastics: Reedsburg 4th of 6 teams in D-1 at the Mc Clellan Inivte in Holmen-Tommie Brenner of Reedsburg 2nd in the Floor exercise. Sauk-Prairie 4th and Baraboo 5th among 6 teams in D-2 with Jordan Laymon of Baraboo 2nd in the Floor and 3rd on the bars with a fifth place all-around finish.
Tonight-Mt Horeb at Reedsburg at 6 PM
Boys Swimming: Baraboo 6th and Sauk-Prairie Coop 8th at the Middleton Relays and each local squad had one top three finish.
Dells Ducks Junior Hockey sweeps three games on the weekend from Hudson in the Minnesota Junior Hockey League, winning 4-1 twice and 6-2 on Sunday to go 24-13 in league play.