by Matz ~ January 12th, 2013. Filed under:
Matz on Sports
.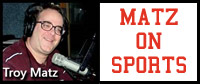 Wrestling: Baraboo at SPASH Invite at 9 AM-Baraboo won two conference duals this week alread and placed second with three champions at the Baraboo Thunderbird Classic last Saturday
Weston-Ithaca Invite at Weston High School at 10 AM-Weston-Ithaca has been ranked in the D-3 Crossface Magazine poll most of the season. Reedsburg is also one of the 12 schools in the field and coming off a dual meet win with De Forest last night.
Wisconsin Dells at the Merrill Invite-Dells lost 55-14 to Mauston in an SCC dual Thursday.
River Valley wrestlers at the Monona, Iowa Invite at 10 AM-Seth Liegel has won over 70 matches in a row for the Blackhawks dating back to the 2010-2011 season.
Boys Basketball: Wisconsin Dells vs Cedar Rapids Washington from Iowa at 3:15 PM at JAG in Wisconsin Dells-This game is part of the Wisconsin-Iowa Border Battle featruing state ranked teams from both states.Wisconsin Dells is the top ranked team in D-3 at 12-0 and they've won every game by eight points or more with the 1-2 punch of MJ Delmore and Shane Wimann the leaders of a potent offensive squad. Dells won 81-72 over Nekoosa Tuesday. The first game today at 1:30 PM has second ranked Dubuque Senior vs Verona with the 5:45 PM game featuring number one ranked Danville against top ranked Randolph with top ranked Iowa City West facing seventh ranked Sun Prairie in the final game at 7:30 PM.
Hillsboro at Richland Center-Hillsboro is 5-7 overall after a Thursday win at Brookwood while Richland Center now shares the SWC lead after knocking off River Valley earlier this week.
Girls Basketball: Badger North-De Forest at Waunakee, This is a make-up game from a December 20th postponement with both teams 3-1 in the conference after both won road games Thursday.
Girls Hockey: Badger Thunder at Onalaska 2 PM-This is a make-up from a December 21st postponement with the Thunder 3-9-1 overall after a 2-1 loss to the Metro Lynx Thursday. Onalaska is ranked number two in the state at 11-4 and they have not lost to a Wisconsin team this year.
Boys Hockey: Sauk-Prairie Coop at Milwaukee Marquette at 7 PM-The Sauk group is 9-6-1 overall and this is their first game action in eight days. Luke Mc Elhenie for Sauk leads the state in goals scored for the season.
Gymnastics: Baraboo, Reedsburg and Sauk-Prairie at the Holmen Invite at 9 AM-Baraboo lost a dual at Mount Horeb Thursday while Sauk beat Dodgeville but lost to River Valley Thursday. Reedsburg scored over 125 team points in a win over Viroqua Monday with Tommie Brenner winning two individual events.
Boys Swimming: Baraboo and the Sauk-Prairie-Wisconsin Heights coop will compte at the Middleton Relays at 11 AM-Baraboo won a dual 126-44 over De Forest Tuesday with two first's from Tanner Craker. Sauk last competed last Saturday in the Milwaukee Marquette Invite.
Dells Ducks Junior Hockey hosts Hudson at 6:30 PM tonight and at Noon tomorrow at the Poppy Waterman Arena in Lake Delton.