by Matz ~ January 8th, 2013. Filed under:
Matz on Sports
.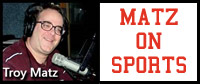 Wrestling: Baraboo at De Forest in Badger North-Baraboo is 0-1 in the conference after a 39-31 loss vs Reedsburg but the Thunderbirds finished second in the seven-team Baraboo Thunderbird Classic Saturday with Kolt Bode and Andre Mayllen winning individual titles. De Forest is 1-1 in the conference dual season with the Norskies trying to replace some State Tourney veterans who graduated last season. Baraboo also hosts Waunakee Thursday but the T-Birds go to De Forest tonight and you can hear the match live on 99.7 FM and AM 740-WRPQ Radio with Mike Mc Gann and Eric Hanson on the call with coverage beginning before 7:30 PM.
Hillsboro at Cashton in the Scenic Bluffs Conference
Boys Hockey: Baraboo-Portage at Onalaska at 5 PM-Baraboo-Portage is 7-3-1 overall after trouncing Pacelli 8-1 on Saturday, scoring the final eight goals of the contest. Baraboo had seven different goal scorers with Adam Stanton finding the back of the net twice. Onalaska is 7-5 on the season and they're a member of the Mississippi Valley Conference. Baraboo's coop also hosts Tomah Thursday night.
RWD vs Madison Edgewood tonight at La Bahn Arena next to the Kohl Center at 7:45 PM-Reedsburg-Wisconsin Dells is 9-4 after Friday's 3-2 win over Stoughton, the second one-goal win over Stoughton for RWD this year. Seven of the 13 games have been decided by one goal and it could be tight tonight against an Edgewood team that is 7-6 overall. La Bahn Arena is in it's first year and is the new practice home for UW Badger Men's and Women's Hockey and the Women's team also plays their games there as well.
Boys Swimming: Baraboo at De Forest in Badger North at 6 PM-Baraboo got a title and a second place finish from Tanner Craker Saturday at the College Events Invite in Stoughton with Marek Sokolowski and Sam Trotter also with top three individual finishes as Baraboo placed 4th among seven teams. Baraboo lost a dual to Sauk-Prairie's coop team in previous Badger North dual meet competition.
Boys Basketball: Non-Conference-La Crosse Central at Baraboo, Baraboo comes into the contest at 1-8 overall with a seven-game losing skid. Baraboo has had trouble scoring points for much of the season but in the last two games, the offense is averaging a very respectable 52 plus points per game but they've given up over 60 points in each game, something they had done only once this season before that. La Crosse Central is a perfect 10-0 and ranked in the top five in their division in both the coaches poll and the first Associated Press poll out this week. Baraboo also goes to Mount Horeb on Friday in a return to Badger North action.
Portage at Waupun-Portage looks to get back to the .500 mark with a win, coming in tonight at 4-5 overall. Daniel Beck is performing well in the post of late for the Warrors, scoring over 15 points per game over the last three contests. Waupun is playing well to start the season at 9-3. The Portage boys go to Reedsburg Friday night as well.
Badger North-Reedsburg at Waunakee, Reedsburg is 6-3 overall after a tough loss to Poynette over the holiday break 47-45 with the 45 points a season low offensively for a team that has put up over 55 points six times. Reedsburg is 2-1 in the conference with wins over De Forest and Sauk with a loss to Mount Horeb and will be squarely in the league title chase with a road win tonight. Waunakee leads the conference at 2-0 as the only team without a conference loss and the Warriors are 6-3 overall after thrashing Fort Atkinson by 25 points over the weekend.
South-Central Conference-Wisconsin Dells at Nekoosa, Dells leads the SCC along with Mauston at 4-0 and the Chiefs are 11-0 overall and the number one ranked team in D-3 in both the coaches poll and the first AP poll of the season. They've won each game by eight points or more this season and they have won eight games by 20 points or more as well. Nekoosa is 2-2 in league play and facing Wisconsin Dells for the first time this season.
Wautoma at Westfield
Mauston at Adams-Friendship-Mauston is 4-0 in the conference and they've played 15 games already at 12-3 overall.
Scenic Bluffs Conference-Hillsboro at Bangor, This is a make-up from a December 20th postponement with Hillsboro 3-1 in the league after a win over Wonewoc-Center Friday and Bangor is 2-2 in league play.
Monday-River Valley 56 Ithaca 18, River Valley extends the win streak to eight and they're 9-2 overall and they outscored the Bulldogs 38-10 in the second half
Girls Basketball: Non-Conference-Baraboo at La Crosse Central, Baraboo is a perfect 8-0 and ranked third in the state in D-2 and the Thunderbird girls have won by 21 or more in each of their last four games, allowing less then 34 points per game in that stretch. Coach Dave Crane's crew has a very strong 1-2 punch offensively with Sam Terry and Emily Brinker but Isabel Schmelzer, Carli Zimmerman, Kelsey Digmann and Miakyla Turner all have had double figure scoring efforts in recent games as well. La Crosse Central will take a 5-4 record onto their home floor against Baraboo tonight with the Thunderbirds also at Stoughton Thursday. Baraboo will also play a make-up game at Edgerton this Monday.
Reedsburg at Holmen-Reedsburg is 5-2 overall but a four-game win streak ended last week in a 41-39 loss at Oregon. Reedsburg has topped 50 points offensively just once but that they have rebounded well and have shut teams down, holding four of seven opponents to 35 points or less. Reedsburg has moved into the number ten spot in D-2 state rankings in both polls and they face a Holmen team that perhaps deserves similar acolades with a 6-2 overall record led by one of the state's top players in 6'2 forward Caitlyn Russell. Reedsburg also has a big one in Badger North at home with Waunakee Thursday.
Adams-Friendship at Sauk-Prairie-Adams has one of the best records in the state at 9-1 overall and the defending SCC champions are led by Sophomore Emma Roenneburg, the SCC player of the year as a freshman. Sauk is 6-3 overall and 5-0 outside Badger North including a 58-57 win over Wisconsin Dells last night.
Lodi at Portage-Lodi is 5-2 on the season and one of the top teams in Capitol North while the Portage girls are 3-7 overall but they've won two of three including a 51-39 win over Poynette last night.
Ithaca at River Valley-Ithaca is 5-1 overall and one of the top squads in the Ridge and Valley Conference and they face a larger school with River Valley coming in at 3-6 overall but the Lady Blackhawks are winless in the SWC.
Scenic Bluffs Conference-Hillsboro at Wonewoc-Center
Royall, the conference leader, hosts winless Necedah
Bangor at New Lisbon
Cashton at Brookwood
Monday-Sauk-Prairie 58 Wisconsin Dells 57, Ali Roach's three-point goal in the final seconds wins it for Sauk who is now 6-3 overall. Georgia Breunig scores 18 points to lead Sauk and ten of them came at the very end with Lindsey Sauer adding 16. Wisconsin Dells falls to 4-7 with their fifth straight loss despite 14 points each from Hunter Hickey and Marissa Fernandez, 12 from Jaden Ward and ten from Karissa Mace. Wisconsin Dells goes to Wautoma Friday in the SCC.
Portage 51 Poynette 39-Caitlyn Hibner scores 14 for a Portage team that is 3-7 overall and winners of two of their last three games. Portage outscored Poynette 15-3 in the final period.
Hillsboro 42 Viroqua 31-Hillary Stanek scores 19 for 6-3 Hillsboro, winners of two straight.
Royall 42 Weston 31
Seneca 44 Wonewoc-Center 32
New Lisbon 45 Mauston 44 OT
Gymnastics Monday-Reedsburg 125.275 Viroqua 123.3, Tommie Brenner wins the Floor Exercise and Vault for Reedsburg